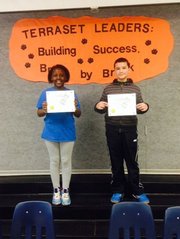 Terraset Elementary School in Reston hosted its eighth annual Spelling Bee on Feb. 19, in the school's cafeteria. Fourteen students from grades 3-6 participated. The format followed those used by both the county and national bee programs. Sia Komba, a fourth grader, won in round nine, with the word "manufacture." Archer Oliver, a sixth grader, was runner-up. Komba will advance to compete against students from all over Fairfax County at the 2014 County Bee in March. The winner of the county contest will advance to the Scripps National Bee in Washington, D.C.
Of her Spelling Bee experience, Komba said, "I liked learning new words, and I feel really good about what I did. I'm really excited!"
Sarah Nieto, a fourth grade teacher and chair of the Spelling Bee Club at Terraset was pleased with the outcome this year. "We've had some competitive Bees in the past, but this one was really exciting. The kids prepared well," she said as the participants and other students congratulated Komba on their way back to their classes.