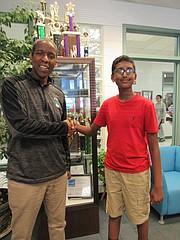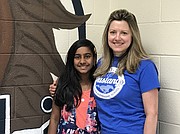 With the singular hope of making it to the 92nd year of the Scripps National Spelling Bee in Washington, D.C., two students at Herndon schools, Pranav Elavarthi, 12, a seventh grader at Rachel Carson Middle School and Akshita Balaji, 12, a sixth grader at McNair Elementary School, out-spelled local, county and state competition and moved to national level. On May 27-30, Elavarthi and Balaji joined 560 other champions at the 2019 Scripps National Spelling Bee held at the Gaylord National Resort and Convention Center located at National Harbor, Md.
According to Scripps, its competitions reached more than 11 million students this year who participated in spelling bees held in classrooms, schools and locally sponsored events around the country and other parts of the world.
THE PURPOSE of the bee was "to help students improve their spelling, increase their vocabularies, learn concepts, and develop correct English usage that will help them all of their lives," stated organizers.
The Connection interviewed the local Herndon students, Elavarthi and Balaji, to learn more about their stories of determination and experiences before and during the competition, as well as plans for next year, given both will qualify by age and grade level.
Pranav Elavarthi, 12, of Herndon, a seventh grader at Rachel Carson Middle School:
"I have been to other spelling bees at my elementary school, and I never won there but came close three times. Usually, my mom and I spent about 30 minutes each day studying. We went through The Merriam-Webster Dictionary. At the spelling bee, I did not know the meaning of all the words, but I could spell them. I used context clues, root words, the language of origin and the part of speech.
The vocabulary test during the Preliminaries was probably the most challenging aspect of the spelling bee. They gave you the word and multiple choices of which one was the correct meaning.
I got to Round Two in the bee. I spelled the word "placoderm" wrong... I didn't know if it was an "o" or an "a" (in the second syllable). I was pretty sad when I misspelled the word. I expected more out of me.
When I write, I do use spell check. It's a lot faster than going through and checking it myself. I'll definitely compete next year again."
Gordon Stokes, Principal Rachel Carson Middle School:
"We are very proud of Pranav. It's always exciting when our students are successful at any level of competition and certainly for students who make their way to a national competition."

Akshita Balaji, 12, a sixth grader at McNair Elementary School:
"My coaches were my parents and my sister, Ankita; they were always quizzing me. There were also games on the Merriam-Webster site, and I liked to use those.
There were two challenging experiences. The first one was the Preliminaries Test. That's because there were spelling and vocabulary questions … I didn't prepare as much for the vocabulary. Round Three was also very hard because when I went onstage some of the words the spellers were getting were easy … but some were pretty hard. I didn't know if I'd get an easy or hard word, and the whole time I was sitting waiting for my word, I felt stressed.
After the Prelims, there were Rounds Two and Round Three. I spelled my words for Round Two and Three correctly, and the judges considered me (to be one of the 50 finalists,) but... because I got some wrong on the Vocabulary Prelim, I wasn't chosen. I was number 51.
Obviously, I felt sad because that was my goal this year. But I take it as a learning experience so that I can do better next time. I think I'm going to expand my vocabulary. When I write, I don't use spell check because it is in my brain, but I do proofread afterward.

"THE BEE was great, and practicing spelling helped me and not just by learning new words. I was pretty scared, but I still did it. I learned other things like courage and sportsmanship... It taught me when I make a mistake not to be bitter about it, and take it as a learning experience to make me a better person, now and in the future."
Joan Carter, Assistant Principal McNair Elementary School:
"We are very proud of Akshita, and it should be noted that she won our school spelling bee for three years in a row. Akshita was a wonderful representation of McNair School."