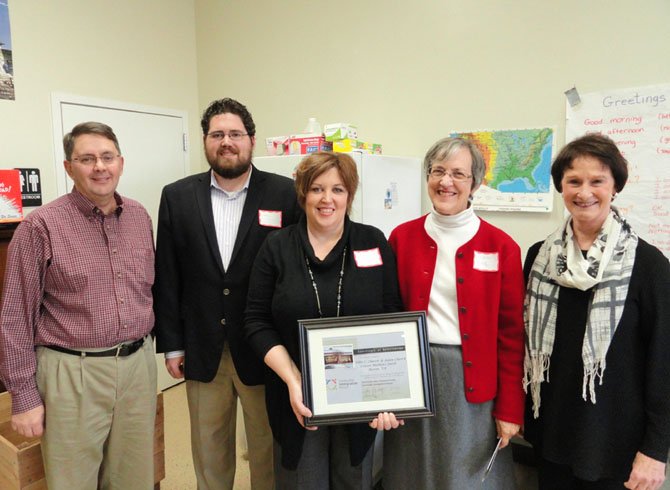 The Centreville Labor Resource Center (CLRC) has been open two years now, making a huge difference in the lives of the day laborers it serves. And on Saturday, Dec. 7, those involved in the center's success celebrated its anniversary.
The Centreville Immigration Forum is responsible for the center's continuing operation, and during the ceremony, CIF President Alice Foltz presented framed certificates to several people, acknowledging their contributions to the CLRC.
Among those honored were Herndon's Ellen Cobb Church, owner and CEO of Craver Mathews Smith (CMS), and her son Adam. "Throughout her career in marketing, Ellen has dedicated herself to advancing the movements that drive social change," said Foltz. "She has crafted strategic fundraising programs from the ground up for organizations of every size – spanning the political, advocacy, environmental, humanitarian and charitable fields."
Located in Reston, CMS was founded in 1975 and purchased by Ellen Church and her business partner in 2008. "She and her son have been strong supporters of CLRC since Ellen joined the CIF Advisory Council in 2012," said Foltz.
In 2013, explained Foltz, the Churches "designed, produced and donated a wonderful new brochure for the center, and they are also conducting a mass-mail campaign to increase our message into the community. Special thanks to Adam for taking responsibility to complete the writing and for all his patience with the many edits and adjustments."
— Bonnie Hobbs