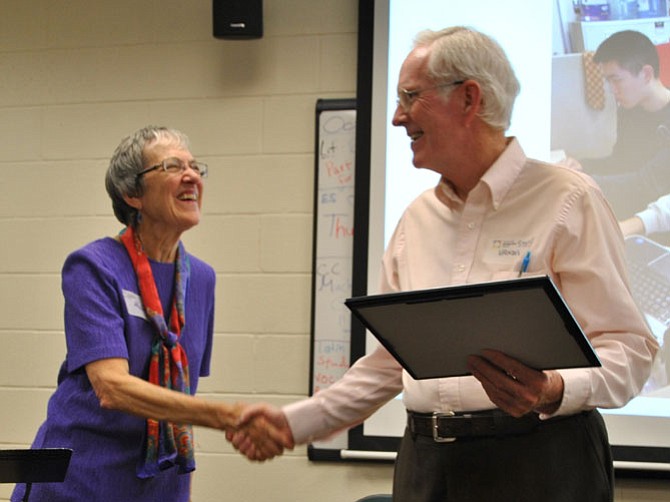 Every week, more than a dozen volunteers plan, teach, organize, and support programs at Centreville Labor Resource Center (CLRC). Over the year, more than 100 volunteers contribute to the life of Centreville Immigration Forum (CIF). At its annual meeting last Tuesday, Oct. 28, CIF recognized these leaders, including Stephen Vandivere, the top volunteer with 120 hours this year; and Joyce Lynn, the lead ESOL teacher for Saturday morning, with 70 hours.
Both Vandivere and Lynn have volunteered since the earliest days of the Center. Lynn leads a women's ESOL group on Saturday morning, and Vandivere is a greeter and volunteer recruiter.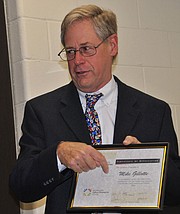 CIF recognized three community leaders as "Community Heroes" for connecting others to the work of the Labor Resource Center. Angie Carrera, of the Fairfax County Office of Public and Private Partnership, was recognized for making connections far beyond her office. Her creative energy and ideas bring new supporters and raise the profile of CIF in the community.
Bonnie Hobbs, reporter for the Connection Newspapers' Centre View paper, was cited for her fair and honest news stories, keeping the community informed and connected. Hobbs's stories consistently present the facts, and help Centreville residents from all backgrounds to know and appreciate the strengths of all community residents.
The third Community Hero award went to George Mason University Professor Al Fuertes, one of the first supporters of CIF in 2007, when he used his skills in conflict resolution to create a fair space for all voices to be heard. Centreville residents with varied opinions trusted his skill in moderating the conversation. Dr. Fuertes continues to help CLRC connect with talented students and resources at GMU.
CIF recognized two youth volunteers, Ellis Tsung, a senior at Thomas Jefferson HS for Science and Technology; and Cathleen Watkins, a freshman at University of Virginia and a graduate of Westfield HS. Ellis built and maintained websites for CIF and CLRC, and works with staff and volunteers regularly on Saturday mornings to update the sites. Cathleen was a regular Saturday volunteer for nearly two years at the Center, and taught English with skill and enthusiasm.
The top administrative volunteer for the year is Mike Gillotte, who regularly steps in to answer the phone and record data, and keep the staff smiling. Also honored was Elisabeth Aguilar, for her contributions to the Spanish literacy program at CLRC; and Stephanie Carpio, for her dedication to the health education program. Betsy Pugin was recognized for her role as gracious hostess and supporter of staff and volunteers throughout the year.
The CIF Board also recognized the work of volunteers who made possible the move of CIF to independence in August this year. This was a "seamless transition" according to CLRC Director Roberto Fernández, and the transition is possible because of the work of many volunteers, including Hubert Graves, who organized and facilitated the transfer; Ed Duggan, Cari Lin, Barb Caputo, and Jerry Foltz, who continue to form the CIF financial team; Jim Daniels, who coordinated communications and handled transfer of technical licenses; and Terry Angelotti, who wrote a revised Personnel Policy. Volunteers also serve on the Personnel Committee, led by Marci Huntsman, Yasha Arant, Barb Shaiko and Mary Grace Varnum.
Anyone interested in volunteering can call Centreville Labor Resource Center, 703-543-6272; or email volunteer@centrevillelrc.org Austin Acocella, volunteer coordinator through the Ignatian Volunteer Corps, will be in touch quickly to match interests with opportunities. At present, we need English language and Spanish literacy instructors; and support for a variety of communications and social media projects.
Volunteering at CLRC is a way to get to know new immigrants and other temporary workers, and to support their paths to self-sufficiency in the community.