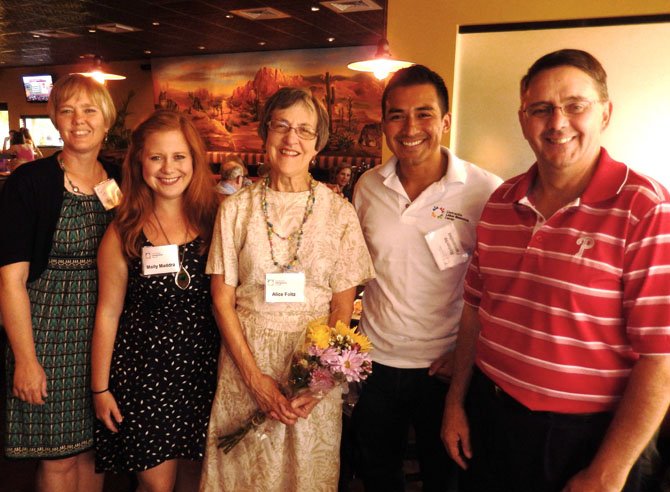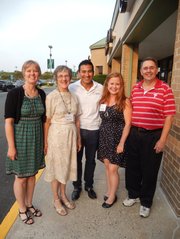 American Independence Day is July 4; but as far as the Centreville Immigration Forum (CIF) is concerned, Independence Day was last Friday, Aug. 1. That's when it became a full-fledged nonprofit, no longer under the auspices of Virginia Organizing.
The CIF runs the Centreville Labor Resource Center (CLRC), which provides a place where local day laborers have access to work, fair wages and classes in a safe and supportive environment.
And since the CLRC is funded solely by grants and private contributions, it's critically important that the CIF be able to accept funds as a nonprofit in its own right. So on July 31, some 70 people associated with both organizations, plus local dignitaries and community members, celebrated CIF's new status with a fajita-buffet dinner and music at Coyote Grille in Centreville.
"I've spent a lot of time talking to people about immigration, and many of them don't feel the same way you do about it," state Sen. Dave Marsden (D-37) told the crowd. "That's why it's so nice to be among people who have compassion and who care about helping others realize the American dream, no matter where they come from. It's good for Fairfax County and the Commonwealth of Virginia; thank you for all you've done."
CIF President Alice Foltz then thanked her board of directors and all the volunteers, and CLRC Director Roberto Fernández did likewise to the workers. "Roberto wanted to build on the strengths of the workers and that's what he did," she said. "They wrote the center's policy before it even opened." And, she added, "We would not be here today without the support of Michael Frey and Al Dwoskin."
Del. Ken Plum (D-36) acknowledged Frey, too, and thanked him for his leadership. Plum said what the CIF has accomplished "truly is an example of what we should be looking at in other parts of the country."
"It's a long road we've traveled," said Supervisor Michael R. Frey (R-Sully), who supported the CLRC from the start. He also said how proud he is to be part of a Board of Supervisors in Fairfax County that treated its immigrant population totally differently from Prince William County.
"My reaction was that we had a local problem we could solve," he said. "Al Dwoskin donated the space and Alice got the funds raised and the support of the faith community. The center's been open almost three years now and is achieving goals every day. And tonight's a huge step for the CIF to break from its parent organization."
Frey said the CLRC continues to increase the number of workers getting jobs and the number of employers hiring them and has gained community acceptance. In fact, he said, "The majority of the employers are Centreville residents. No one fears for their safety and the workers are getting paid and are learning English and job skills. So I think the future's bright – this is a tremendous success story."
He also praised Fernández, CLRC Coordinator Molly Maddra, new CIF Executive Director Terry Angelotti and all the volunteers. Said Frey: "Thank you for what you've done and for what you'll continue to do."
Angelotti is the CIF's first-ever executive director, but has been part of the group for four years, most recently as chairman of its Finance and Fundraising Committee. She and her family moved to Centreville in 2001 and often went to the library here.
"When I saw all those guys standing outside, looking for jobs, I wanted to help," she said. "But I didn't speak Spanish and didn't know what I could do. Then I read in the newspaper about a meeting to organize the center, so I went."
In her job, she reviewed grants and applied for money, so she called the CIF and offered her help writing grants and raising funds for the center. "Molly and Roberto need this support to continue their work," said Angelotti. "And now I'm looking forward to helping with the leadership in a new way."
Foltz said the CIF plans to apply for additional grants and offer more qualified and certified training for the workers, so it needs to raise money for the instructors. Also planned are more ESL classes, plus classes in advanced ESL. And the community can help.
Tax-deductible contributions may now be made directly to the Centreville Immigration Forum. Mail checks to CIF, Box 81, Centreville, VA 20122; or bring them to the Centreville Labor Resource Center, 5956 Centreville Crest Lane in Centreville. And in the coming weeks, online donations will be able to be made at www.centrevillelrc.org or www.centrevilleimmigrationforum.org.