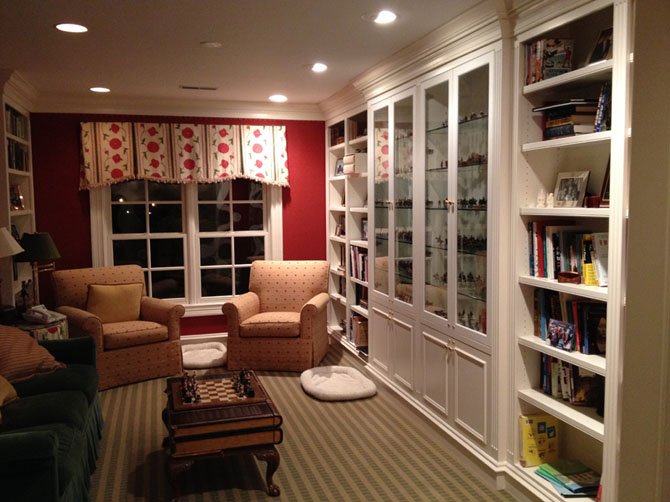 Remodeling industry professionals spend their days helping clients create dream homes, adding quartzite counter tops and outdoor, stacked stone fireplaces, turning ideas and photos into functional, chic living spaces.
But what about their homes? What materials do they choose for themselves? How do they make the most of their living spaces? Three local professionals from BOWA Builders, Inc. opened their doors and shared the secrets of their renovations.
When principal and owner George Hodges-Fulton and his wife, Alexandra, decided to remodel the galley kitchen in their Reston home, they decided to expand and change the flow of traffic, keeping the safety of their 6- and 10-year-old daughters in mind.
"We wanted to open the house up more," said George Hodges-Fulton. "We took out a wall between kitchen and the dining room."
Alexandra Hodges-Fulton, a serious cook, added, "The sink and the stove were across from each other. Now the sink and the stove are next to each other, so I don't have to walk across the kitchen carrying hot pasta."
Plus, the new farmhouse sink is custom-made from honed granite. "I originally wanted soapstone, but over time that can scratch," she said.
The new kitchen also includes additional counter space. "I have more prep space," she said. "And everything I need is within arm's reach."
When it came to choosing finishes, "everything came from wanting to work with the [existing maple] floor," said George Hodges-Fulton. "We wanted to choose classic colors that weren't going to go out of style."
"I spent a huge amount of time looking at pictures of kitchens," said Alexandra Hodges-Fulton. "We added white Carrara marble countertops. … We added a marble backsplash in a black, white and grey circular mosaic. That's the thing that everybody comments on when they come into the kitchen."
The project took a mere five weeks to complete. "Everything happened perfectly," added George Hodges-Fulton. "Having on-site supervision and knowing the end goal helped."
He says that having undergone his own renovation project, he now has additional insight when advising clients. "It makes a significant difference," he said. "We can say 'In my house I did this.' or 'I did this wrong in my house, so you might consider this.'"
When principal and owner Steve Kirstein first moved into his Potomac, Md., home with his wife and three children, he spotted several missed design opportunities. "We needed some of the spaces to do different things," said Kirstein. "We wanted a family gathering space and a display space upstairs."
The home had a two-story foyer, which Kirstein saw as the perfect location for a second floor family room. He added "flooring, sheetrock walls, built-in bookcases and display cases. Now it's a gathering space for the family upstairs and we still have a dramatic foyer downstairs."
Next, Kirstein turned what he called, "a big wasted space" adjacent to the garage into a mudroom. "We put a cubby and drawer for each child and a bench for taking off shoes. We added a half wall across from the cubbies so you can't see all of the cleats and lacrosse sticks all over the floor. We also added a powder room."
Kirstein also transformed his backyard into an oasis. "We added a pool and entertaining area," he said. "We redid every finish in the house. I liked those small touches because they were simple and easy and changed the way the house looked."
Founder, cochairman and owner Josh Baker grew up in Great Falls and when it came time to raise his family, he remained there. He even built a custom home where he plans to live long-term. "A lot of planning went into the future," said Baker. "The concept behind it was we would create a fun space for our children that their children could eventually enjoy."
He advises his clients to similarly plan ahead and think about how their needs might evolve. "To make it a long-term home is to not think about just what you need now, but what you might need in the future," he said. "We designed a guest suite on the first floor with the idea that my wife and I could live on one floor once we're empty nesters." There is enough space for friends and extended family.
Baker said each time he and his wife updated the house, they did so judiciously. "We made smart decisions about small things that make a big difference. For example, we changed tiles to make it up-to-date without a huge remodel," he said.
Baker's experience as a builder helped him decide on the room sizes and layout of the house. "In terms of design, a lot of our house has a focus on lines of sight, informality and lots of light. … On our first floor, there are no partition walls in the common area."
The rooms in the house are generous and comfortable and space was used wisely, Baker said. "We focused on the feeling and functionality of the room rather than the size of the room," he said. "None of the rooms are oversized, but they are functional."
Wise use of space is another lesson he shares with clients. "At one time, bedrooms with sitting rooms were very popular," said Baker. "But … a lot of our clients don't use them so we're repurposing those spaces. In our master bedroom, for example, we focused on walk-in closets. Even our master bathroom is spacious, but it is not vast."
The Bakers designed their outdoor landscape to accommodate their penchant for relaxed entertaining. "We're informal folks," said Baker. "We like to entertain, so we developed our landscaping to include an expansive entertaining area and a swimming pool. We have a lot of outdoor parties. We can accommodate a large group in our yard as well."