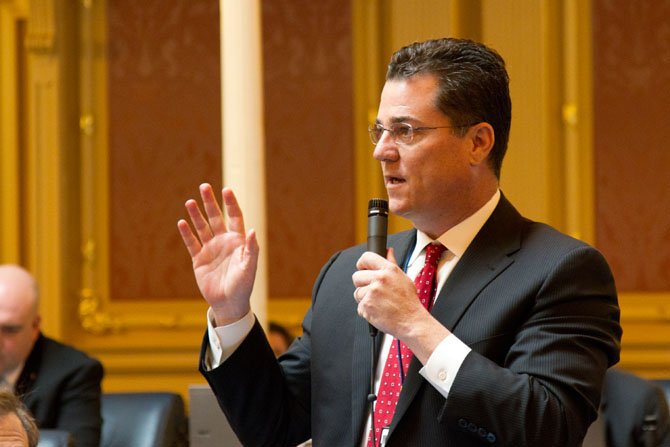 As the General Assembly convenes on Jan. 8, several delegates from Fairfax County have written bills that tackle some of the issues they believe are important to Virginians.
Del. Dave Albo (R-42) proposed a bill that would get rid of the Alcoholic Beverage Commission's three person board and would replace them with five citizens with business experience who are appointed by the governor and confirmed by the state legislature. Members of the current three-person board make six-digit salaries and are appointed by the governor. Albo's plan would make the position part time and would pay 50 dollars per day.
"The bill was originally filed when the Governor tried to privatize the ABC stores. The idea was that the private sector could operate them more efficiently. We never could find a way to do it. If we privatized them, in a few years, the state would be losing tens of millions. So my bill basically keeps the ABC stores with the state, but organizes it as a business/corporation with a Board of Directors and a CEO," Albo wrote in an email.
Del. Scott Surovell (D-44) has proposed five ethics reform bills, some of which address issues that surfaced in 2013 due to ongoing investigation related to Governor McDonnell's gift scandal.
"I wanted to get those out there early in the process, because I know there are discussions out there on what we should be doing. The bills themselves focus on holes in the states ethics laws," Surovell said.
Surovell's bills include banning economic ties with appointees and eliminating gifts during litigation, intended to keep politicians transparent.
"The last twelve months have raised a lot of questions among Virginians of how business is conducted in Richmond," Surovell said. "I think we owe it to our constituents to ensure that relationships between elected officials and lobbyists and special interests have as much transparency as possible, so that citizens can make their own decisions as to whether that activity is appropriate or not and every one follows the law."
At the Fairfax County Democratic Committees' Annual Road to Richmond Legislative Brunch, Del. Mark Sickles (D-43) talked about retiring Del. Jim Scott's (D-53) legacy and mentioned the upcoming General Assembly session.
"One year ago, no one thought that we would get a $1.4 billion per year transportation budget," Sickles said. "So that makes me think that we could get Medicaid."
Sen. Dick Saslaw (D-35) also addressed ethics reform, the expansion of Medicaid, and other legislative priorities at the legislative brunch.
"We're going to have to deal with the ethics issue. It's not as easy to deal with as you think, because you're going to have to distinguish between what's entertainment and what is a gift," Saslaw said. "It's not an easy topic. We are going to deal with it, we are going to get legislation, and we will get something to the desk of the governor."
According to Saslaw, economic development is one of McAuliffe's top priorities.
"I don't know of any governor in the country that is as well wired with the business community across the planet as that man is," Saslaw said.