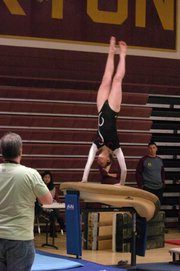 With one of its most skilled gymnasts unable to compete, the Oakton gymnastics team received a clutch performance from sophomore Natalie Weaver to help pick up the slack.
Weaver, one of two club gymnasts on the team, won the all-around competition, leading the Cougars to victory during a home meet on Jan. 9.
With freshman Stephanie Weir, a club gymnast, unable to compete, Oakton managed to produce a score of 129.625, the Cougars' best score of the season. Chantilly placed second with a score of 128.375, followed by South County (118.225), Langley (114.650), Hayfield (102.575) and West Springfield (97.55).
"They all came together and performed wonderfully," Oakton coach Frankie Orbacz said. "… Every girl is an asset regardless of their skill or if they've done club before. It was wonderful. It was a pleasant surprise tonight. They all came out and did their best."
Weaver led the way for Oakton, winning the all-around with a score of 34.625.
"She did wonderful," Orbacz said. "She's definitely one of our solid competitors. She can pull through in times of need. All the time, she does wonderfully, but especially when we know that a couple of the other girls with higher skill aren't competing. She pulls her game up and does really well for the team."
Weaver won beam (8.7) and bars (8.575), placed third on floor (8.875) and finished fifth on vault (8.475).
"I think we came together as a team," Weaver said, "and I just used everyone else's energy to pump myself up."
As one of the two club gymnasts on the team, Weaver said she tries to help her teammates.
"I give them advice on skills because I've been there and I've learned them just like they're learning them now," she said. "It's good to have support."
Oakton junior Katarina Jones and sophomore Amanda Gore tied for fourth in the all-around with a score of 32.725.
Chantilly's Elise Mazzone placed second in the all-around with a score of 33.4, and Langley's Natalie Volpicelli took third (33.125).
Orbacz said Oakton has its sights set on a return to the region meet by placing first or second at the conference meet on Feb. 6 at Centreville.
The Cougars will compete at the Aloha Invitational on Jan. 25 at Patriot High School.