Fairfax County Public Schools Superintendent Karen Garza's proposed budget of $2.5 billion for FY 2015 will require an additional $98.1 million, or 5.7 percent increase compared to FY 2014, from Fairfax County.
The superintendent attributes the rise to enrollment growth, retirement rate increases and the structural deficit. The FY 2015 proposed budget is an increase of $59.4 million from last year's approved budget.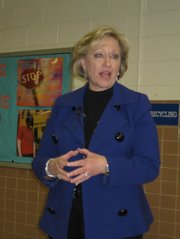 "We had some significant cost drivers that affected our budget moving forward," Garza said at the Jan. 9 school board meeting.
According to Garza, enrollment growth has created a strain on the school system. Other costs factors include a retirement rate increase of $38.9 million, as required by the state, and health insurance increases of an estimated $23.9 million.
THE PROPOSED BUDGET also includes an increase of step bonuses for employees who are eligible, totaling $41.0 million. There has been one step increase for employees in the past five years.
To address these cost increases, the budget includes reductions and savings of $96.5 million, which includes the elimination of 731 positions.
The reductions include the elimination of 82 positions from central support, 180.5 positions from school support, which includes assistant principals, technology specialists, school clerical employees, custodians, and the elimination of the administrative intern program. The elimination of 468.7 classroom positions is also included in the proposed budget and will be done by increasing class size and cutting down on needs-based staffing, instructional assistants, and the career and transition program.
"Some of that we believe can be mitigated by annual growth and annual attrition, but it is significant. It is a significant number of positions," Garza said.
The proposed budget also includes an addition of $4.2 million in fees for Advanced Placement and International Baccalaureate tests.
According to Garza, the Board of Supervisors has spent a great deal of time meeting with the school board regarding the budget.
"I'm very hopeful and optimistic, having met with them numerous times, as we all have, that there will be a shared solution and that they will partner with us as we move forward to protect our great schools," Garza said.
Garza said at the meeting that the school board has taken a shared approach in the FY 2015 proposed budget.
"As we look to FY 2015, our approach has been a shared approach. As I mentioned earlier, we had a projected significant shortfall. As we visited with the Board of Supervisors, we felt like after having visited with them and really surveying the lay of the land, we knew that we were going to have to look forward to solving this through a shared approach, recognizing that we're going to need their help in helping protect our schools moving forward, but at the same time, that we're going to have to make some difficult decisions as a system, very painful ones," Garza said.
Garza said at the school board meeting that she knows the school system is asking a lot of the Board of Supervisors. The budget is dependent on the Board of Supervisors increasing the county transfer by $98.1 million.
The FY 2015 projected beginning balance, used to prepare the budget, was $48.5 million.
The school board's revenue assumptions include $375.9 million in state aid, $171.7 million of state sales tax, $42.0 million in federal aid, and $66.6 million in tuition payments from City of Fairfax and other revenue.
The projected FY 2015 student enrollment is 187,994 students.
SCHOOL BOARD MEMBERS expressed both thanks to Garza for increasing transparency and beginning the budget discussion earlier than previous years, as well as concerns for some aspects of the budget.
"I have serious concerns with the budget that has been presented because I personally believe that there is some long term impacts in here that we need to ameliorate," said Dan Storck, the Mount Vernon District School Board member.
Other concerns included class size increase and the elimination of certain positions.
"These are some brave cuts. These are going to be some difficult situations we are going to have Monday going forward," Springfield School Board member Elizabeth Schultz said.
Mason District School Board member Sandy Evans said at the meeting she agrees the step increase for employees is fundamental.
"As far as the request for the 5.7 percent transfer, I think that this is modest. It's reasonable. Considering our huge growth and our huge critical, fundamental needs, I think that our request here is quite reasonable," Evans said.
Braddock District School Board member Megan McLaughlin expressed concern with the 5.7 percent increase in the county transfer at the meeting, based off what the Board of Supervisors has approved in the past.
"This school system has not seen a 6 percent or more increase since 2006. This 5.7 percent increase gives me great pause," McLaughlin said.
Some school board members, however, think the request is reasonable, including Vice Chairman and Lee District School Board member Tamara Derenak Kaufax.
"It cannot simply be stated that education is a top priority, when it has not been adequately funded for several years now. Our system has not. Lip service cannot educate a child. Our uncontrollable increases cannot be ignored. Our enrollment growth, our changing demographics, our rising insurance and retirement rates. These are uncontrollable expenses. Again, don't ignore them," Derenak Kaufax said.