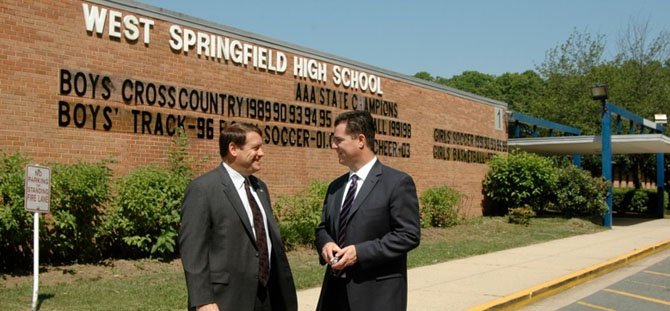 West Springfield High School freshman Rylie Smedley said her school's need for renovation doesn't impact her everyday life at school too much, but that repair is obviously needed.
"A lot of the bathrooms don't work," said Smedley.
It was this state of disrepair that led Erik Hawkins, a resident of West Springfield since 2001, to join other parents and community advocates in 2008 to create SOAR, a group dedicated to ensuring West Springfield High School renovations by 2016.
Fairfax County Public School's current Capital Improvement Program only allows for one high school to be renovated every educational bond, which is bi-annual.

This has led to a queue of schools in line to be funded for renovation. West Springfield renovation is due to begin in 2016, but Hawkins said this timeline negatively impacts students and teachers currently at West Springfield.
"Some classrooms are freezing cold while others are steaming hot on the same day. It is as basic as bathrooms not functioning properly, to huge temperature fluctuations in classrooms on the same day," Hawkins said. "Most importantly, the school does not provide an optimal learning environment. The facility of West Springfield does not provide optimal learning environments and does not even meet the educational specifications of Fairfax County Public Schools."
According to Hawkins, schools in need of repair are forced to wait for years before renovation can take place.
"No Fairfax County high school facility should ever be in the situation that West Springfield is in today. The most unfortunate reality is that not only is it West Springfield. Behind West Springfield in the renovation queue is Oakton, Herndon and Falls Church," Hawkins said. "If you think forward, and you can only fund one of these every other year, you are literally saying that all of these other high schools are not going to be renovated until the mid-2020s."
IN 2013, the Infrastructure Financing Committee was created to discuss capital needs of both Fairfax County Public Schools and county government.
Hawkins said SOAR had been advocating for a collaborative group between the schools and the county for four years before it was finally established in 2014.
"We wanted schools and the county to work together to what we saw, even at that time, as an impending crisis of unmet and unfunded infrastructure and capital needs. Community groups like ours saw that impending crisis three or four years ago," Hawkins said.
SOAR has been working for the past four years with their elected officials, including Springfield Supervisor Pat Herrity, a graduate of West Springfield High School.
Herrity said that it is problematic that Fairfax County has increased their debt by passing the storm water bond in 2012, but schools like West Springfield have still not been renovated.
"We told schools we don't have money and couldn't increase bonds for renovations, but then against the recommendation of staff, the storm water bond was increased in 2012," Herrity said.
Although West Springfield is on the queue to begin renovation in 2016, Hawkins said he hopes that the Infrastructure Financing Committee will address problems with the way schools are put on the list to be renovated now.
"Why has the school system communicated a goal of 25-year renovations cycles, if the county has never provided enough funding to make that goal attainable?" Hawkins asked. "The question we have for the Infrastructure Financing Committee is how can the county invest more to resolve these unmet and unfunded capital needs, that have been termed a crisis and the biggest challenge currently facing the school system, and how quickly can incremental funding be provided?"
West Springfield PTSA President John Pastino, who has two children at West Springfield High School, said that although the school should have been renovated sooner, its faculty and staff, along with students, are what makes West Springfield a viable place to learn.
"The teachers and books are still the same, whether the infrastructure changes or not, you still have the same teachers, you still have the same books," Pastino said. "They've had issues over the past couple of years with maintenance. That obviously impacts the learning abilities of the students and the teachers to teach."
According to Pastino, West Springfield High School renovations will include larger classrooms, new windows, an increased parking lot size, and much more.
"We're being told it's going to look like a new school when it's done," Pastino said.
Hawkins hopes the IFC can make changes that will positively impact the timing of West Springfield's renovation.
"At the current rate, only children in second grade or younger will attend a completely renovated West Springfield High School," Hawkins said.