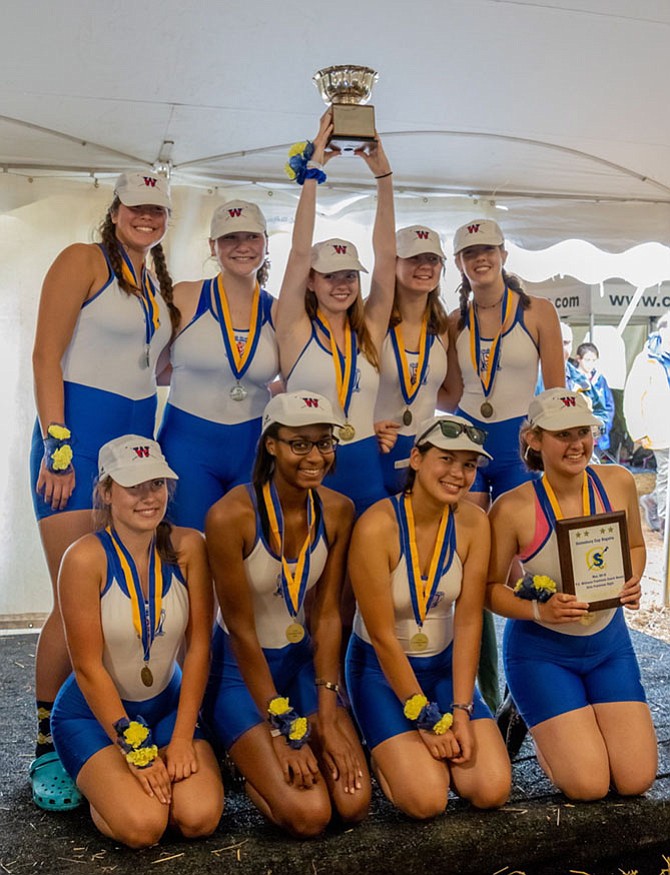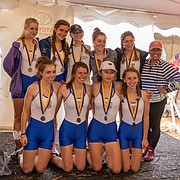 For only the second time in its 92-year history, the Stotesbury Cup Regatta in Philadelphia had to leave town. The T.C. Williams Crew Team went with it, and returned to Alexandria with medals.
The Stotesbury Cup Regatta is open to all and typically features the best high school boats from the eastern half of the U.S. and Canada. The competition includes many private schools that recruit rowers to well-endowed rowing programs.
Heavy rains in the week prior to the May 18-19 event led the Schuylkill Navy of Philadelphia (a non-profit founded in 1858 that includes the 11 rowing clubs on the Schuylkill River) to recommend that race organizers move the event off the fast-moving Schuylkill 10 miles east, to the safer, more docile Cooper River in Camden, N.J. Less than 72 hours later, the largest high school rowing event in the world — featuring 5,589 athletes in 962 boats from 196 schools for 31 events — convened for a blustery, rain-soaked, modified regatta.
The T.C. Williams Crew Team travelled to Stotes with eight boats, fresh from a Virginia State Championship run that included four Gold medals, five Silvers, and a Bronze. The shortened Stotesbury race schedule meant that some of those boats faced much longer odds to survive heat and semi-final races to make the six-boat finals. Varying, punishing head winds during heats would make those odds even longer and skew results compared to race times only a week earlier.
For two of those TC boats going north, their second-place finishes at States left them unsatisfied. The Titan Women's Frosh 8 boat finished only .38 second behind McLean on Day 1 of States to capture the Silver — and a strong desire for redemption. The young TC Women's Lightweight 8 also left the State title chase at Occoquan with a Silver, but wanting more. A lot more.
The Light 8s began Stotes with a relatively smaller, but extremely formidable, set of 12 seasoned competitors vying for the top six spots in finals. Fighting persistent winds and rain during their Friday heat, they stroked their way to the finals in 6.44.27, the second fastest time for their event behind Mount Saint Joseph.
During a chilly final on Saturday afternoon, the Light 8s from MSJ held a determined lead throughout the race, leaving the pitched battle for Silver to the Titan Lightweights and boats from Edgewater High in Orlando, Fla., which two weeks earlier won the Florida State Championship, and New Jersey's Ocean City High School, which had won Garden State and county-wide championships in the weeks before Stotesbury and finished second to MSJ in the Philadelphia City Championships in early May. As these boats fought to the finish, the TC Women edged out Edgewater by a second to capture the Silver in 5:42.89.
"I'm incredibly proud of their accomplishments," said Titan Women's Lightweight 8 Coach Jobelle Cruz. "The girls put their whole heart out there and their dedication has paid off. They are very motivated to continue TC's lightweight legacy." The post-race, smiling TC Women's Lightweight 8 features rowers Ava Elkins, Chloe Marsh, Anna Jane Guynn, Felicity Brock, Alaina Browand, Lila Arnold, Anna Hill, and Caroline Surratt, and coxswain Candace Goodman.
For the TC Women's Frosh 8, the shortened Stotesbury race schedule left them with a tall order; finish in the top 6 out of 46 entrants in heat racing, since the Regatta eliminated the semi-final round for all Frosh boats. They had one shot to get to finals.
In heat races, boats leave the starting line one after another in 8-10 second intervals as race officials measure the 1500-meter time for each boat to determine who advances. So all the Frosh Women could do is row like there was no tomorrow and hope for the best. After all the Frosh boats had raced and what seemed like an eternity, race officials finally announced the results, which had the Titans' 6:12.04 race time as the 6th fastest, besting Bethesda-Chevy Chase by .13 second and McLean by 1.37 seconds. The Frosh 8s had a spot in the biggest race of their young careers.
For even the most successful rowing programs, a lane in the Stotesbury finals is a big deal. For many boats, just getting to that race, let alone medaling, is the highlight of their season.
The Titan Women's Frosh 8, however, had more to prove.
The 2018 Stotesbury Cup Regatta Women's Frosh 8 final was a Who's Who of vaulted East Coast high school rowing programs, including MSJ, National Cathedral School, Whitman, St. Andrews, Ocean City, and T.C. Williams. Although MSJ finished heats with the top time, the range of times for the top 6 boats indicated that the final was anybody's race to win.
Except on Saturday, when the determined TC Women's Frosh 8 grabbed their oars.
The race started fast for the less than ideal weather conditions, and found the TC 8 with a solid lead and open water between them and the competition at the 1000-meter mark, but with boats from MSJ, Whitman, and St. Andrews making a move for the top spot. A frenzied sprint by MSJ in the final 200 meters closed the gap, but it wasn't enough as the Titan Women finished in 5:43.60, 2.5 seconds and half a boat length ahead. Whitman took the Bronze in 5:49.09.
Titan Women's Head Coach Pat Marquardt, who also guides the Frosh 8, noted that "after a disheartening second place finish at States, a Stotesbury medal seemed out of reach for this freshmen crew, but they persisted. For them, a sixth place finish in the time trial was only met with enthusiasm. With great fortitude and grit, this crew found themselves during their final, and it was a beautiful thing."
The victorious and vindicated T.C. Williams Women's Frosh 8 team includes rowers Riley Bucholz, Libby Padilla, Mackenzie Allen, Kaitie Dennis, Wellesley Snyder, Grace Yokitis, Adrienne Carter, and Halle Reinholtz, and coxswain Caroline Miles.
Winning the Women's Frosh 8 Gold medal at Stotesbury had extra meaning for them and the entire T.C. Williams Crew family. The Stotesbury Frosh 8 Women's Trophy is the "T.C. Williams Freshman Coach Award," and was donated by TC Crew alum and Coach Beth Yancey and the Alexandria Crew Boosters in honor of Philip Yeich, a TC physics teacher and men's crew coach who died suddenly in 1994. Yancey won gold medals at Stotesbury as a Junior 8 and Second 8 rower under then Titan Coach Dee Campbell (who also has a Stotesbury trophy named in his honor) before Stotesbury had a Frosh 8 event, and coached Women's Frosh 8 boats to Gold medals in 1992 and 1993. Yancey left coaching in 2003 to have a baby and returned last year to coach novice girls.
The last time the TC Women's Frosh 8 won the Gold medal at Stotesbury was in 2000. TC "winning gold at Stotesbury has a lot of sentimental significance for me," said Yancey. "Watching the girls charge to the finish line on Saturday and getting that award back [for TC] was beyond exciting." And there was another special bonus. "Presenting that award to that boat, which includes my daughter [Libby Padilla]," said Yancey, "was a once-in-a-lifetime honor."
The TC Women's First 8 – Virginia State Champion rowers Charlotte Carey, Grace Vannatta, Grace Asch, Madeline Toaso, Rachel Knapp, Grace Fluharty, Grace Hogan, and Blythe Markel, and coxswain Paula Filios – fought their way to the Stotesbury 1-V-8 final where they finished fifth with a time of 5:25.83. The TC Men's Junior 8, racing in heats in a driving rain that had car windshield wipers on "high," beat 38 competitors to land a spot in the semi-finals. Also making the semis at Stotesbury was the Titan Women's Second 8, which posted the third fastest time during heats in a 20-boat field.