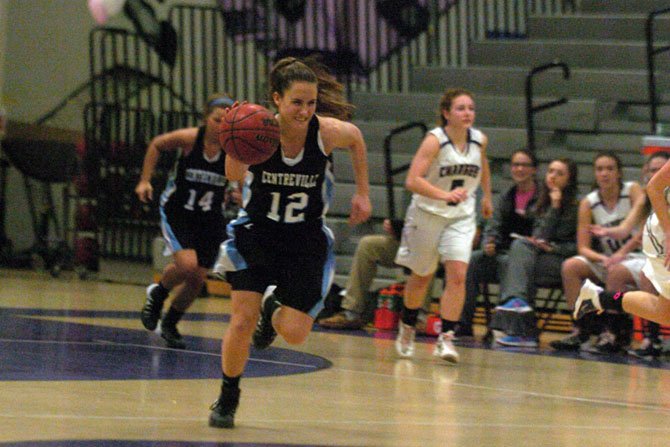 Jenna Green faced the tough decision of whether to pursue basketball or soccer in college. Before she left Centreville High School, however, she found success in both.
On the basketball court, Green, a standout point guard, led the Wildcats to the 2013 Concorde District championship, the program's first since 1993.
"She's definitely the best player in the region, point guard especially," Centreville girls' basketball coach Tom Watson said. "Everyone knows that. Jenna has earned it. Nothing was given to her. She's in the gym before anybody, she's in the gym after everybody, she goes to a trainer three, four, five times a week. If you're putting that work in, then it should come back to you."
On the soccer field, Green helped the Wildcats reach the 2014 state championship match, where they lost in a penalty-kick shootout. She scored both Centreville goals during a 2-1 victory over previously unbeaten Cosby in the state semifinals.
"[Green] played well, but it's not impressive because we expect it," Centreville girls' soccer coach Gary Malebranche said. "It's not like, wow, where did that come from? She played well, she's a great athlete. If she had played soccer full time, I think we're talking about her as one of the best players in the area."
Green, a 2014 Centreville graduate, ultimately chose basketball, and will continue her career at the College of William & Mary. Green recently participated in a Q and A via email with The Connection.
*Connection: What made William & Mary the right fit for you?
Green: I chose William & Mary because it had the best balance between academics and basketball.
*Connection: What is your major?
Green: I have no idea what I want to major in.
*Connection: You were a standout basketball and soccer player at Centreville. When did you decide basketball is the sport you wanted to play in college?
Green: Going into high school, I knew I was going to have to choose. Although I knew I wanted to play basketball, I kept playing club soccer up until my junior year.
*Connection: How difficult was choosing between basketball and soccer? Did you ever think about trying to play both?
Green: Deciding between the two was one of the hardest decisions I have ever had to make, but I knew that I could never give up basketball. My club soccer coach wanted me to try and play both but my schedule is already packed with just basketball.
*Connection: What is your favorite memory of playing basketball at Centreville? What is your favorite soccer memory?
Green: My favorite basketball memory at Centreville was winning the district championship [in 2013]. My favorite soccer memory was [beating Cosby in] the [2014] state semifinal game.
*Connection: If you could go back and change one thing about your high school athletic career, what would it be?
Green: I wouldn't change anything about my high school career, but I do wish it went by much slower.
*Connection: What are you most looking forward to about the transition from high school to college?
Green: I am most looking forward to being at the next level. It is going to be a lot more challenging, but it will also be very exciting.
*Connection: Who is your favorite music artist? Why?
Green: My favorite music artist is Rascal Flatts, because I feel like their songs are very relatable.
*Connection: What is your favorite movie? Why?
Green: My favorite movie is definitely 'Remember the Titans,' because it is so inspiring, and it makes me want to work even harder each day.
*Connection: What is your favorite hobby outside of basketball and soccer?
Green: I don't really have many other hobbies, but I do love to go to the beach and I love outdoor activities.
*Connection: What location is the farthest you've traveled from the Washington, D.C. metro area?
Green: The farthest I've traveled is probably Cabo San Lucas.