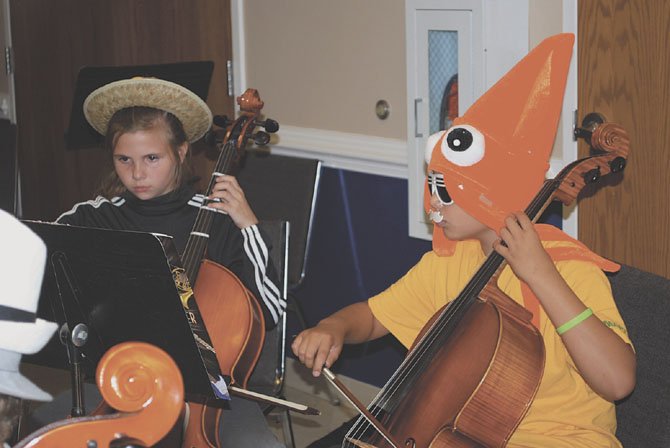 Monsters mashed to strings music this past Wednesday, July 9.
Strings students dressed like monsters, that is. It was "Wacky Wednesday" at Summer Strings Camp, so the students donned special wigs, hats, masks and glasses to fit the theme while playing with Ruth Donahue, orchestra teacher at Spring Hill Elementary and director of the camp, in St. Thomas Episcopal Church.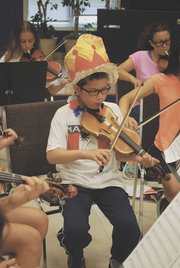 The camp is seven days long and ends with a concert, Donahue said. This is the 26th year of the camp, which is and has been attended by students from different Fairfax County elementary schools. Some students have played for longer than others and some have private teachers, but they have all played in their school orchestras, so they already know how to read music, Donahue said.
"The camp is great for keeping the kids motivated."

-- Ruth Donahue, orchestra teacher at Spring Hill Elementary
Some numbers are more classic and waltz-like, while others include parts where the students simultaneously play their instruments and whistles. "We get to play all styles of music," Donahue said. She conducts from the front of the group while playing her own instrument.
"Everybody playing together is really, really fun," said Serin Lee. She plays the cello and has for two years. "I like having the opportunity to play during the summer," Haytham Alsayed, a soon-to-be sixth grade violin player added. "I love orchestra."
During the morning practice sessions, the students have both smaller sectional times and the full orchestral rehearsal, complete with a break to play and do arts and crafts. Bradley Kim, a student from McLean High School, comes in to help out — he stands next to the lone bass player standing in the back of the group, following the music and helping him count.
"The camp is great for keeping the kids motivated," Donahue said. It not only prepares them for music classes next year, but the camp also keeps their minds musically active, she said. "It is all about the kids."