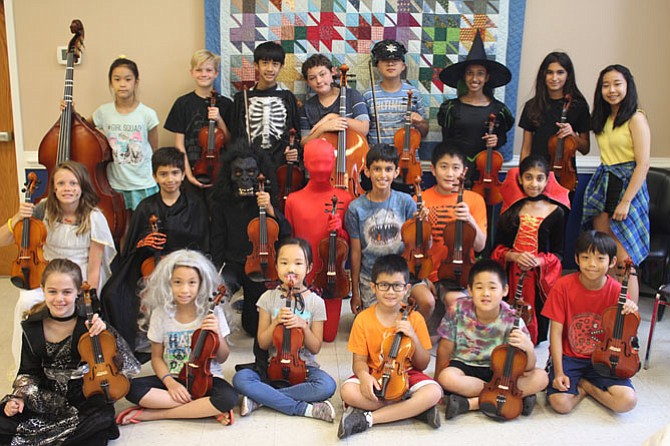 McLean — King Kong, a vampire and a skeleton have one thing in common: they can all make beautiful music. On Messy Monday, Wacky Wednesday and Freaky Friday, the students of Summer Strings Camp played their instruments in costume.
Photo Gallery
A Week For Stronger Strings P1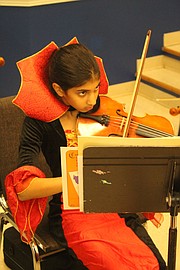 Click Photo for Flash
Orchestra Director Ruth Donahue has run her orchestra camp for 36 summers. Summer Strings is currently held at St. Thomas Episcopal Church in McLean for a week in the middle of July.
At Summer Strings, students sight-read and polish pieces, play games, earn prizes and make friends. On Tuesday, July 24, this year's campers performed a concert at the church.
Last week, Orchestra Director Ruth Donahue gave the musicians a piece by Mozart and they sight-read it beautifully. Donahue said she has never taught another group who could play that piece at sight.
Donahue considered this summer's campers to be highly talented. She knew each student's personality and playing ability. Therefore, she could give each child the specific, individualized instructions they needed to improve.
This year, all of the players were rising fourth-seventh graders from Spring Hill Elementary School. Coming from the same school, students could all discuss pieces and concerts they especially enjoyed without anyone feeling left out. Their favorite experience at Spring Hill was performing with famous electric violinist Mark Wood.
Ruth Donahue has enjoyed teaching stringed instruments in public schools since 1975 when she started her first job in Piqua, Ohio. She earned her Masters degree from Cincinnati Conservatory.
Donahue played in the Springfield, Dayton, and the Cincinnati Ballet and Opera Orchestras. She moved to Oklahoma in 1980, when Oklahoma Symphony Orchestra hired her bass-playing husband. Donahue played as an extra cellist with the Symphony.
Photo Gallery
A Week For Stronger Strings P2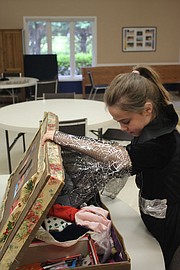 Click Photo for Flash
However, she realized that her true passion was simply teaching. Over the years, she has taught all levels from third graders through college. Her favorite students are third through sixth graders. She admires their enthusiasm. They can play much more skillfully than many people imagine, even performing middle-school level music with finesse.
In 1988 with the demise of the Oklahoma Symphony Orchestra, Donahue and her husband moved to Virginia. She has worked at her favorite Fairfax County school, McLean's Spring Hill Elementary, for 30 years.
Ruth Donahue contributed to this story.