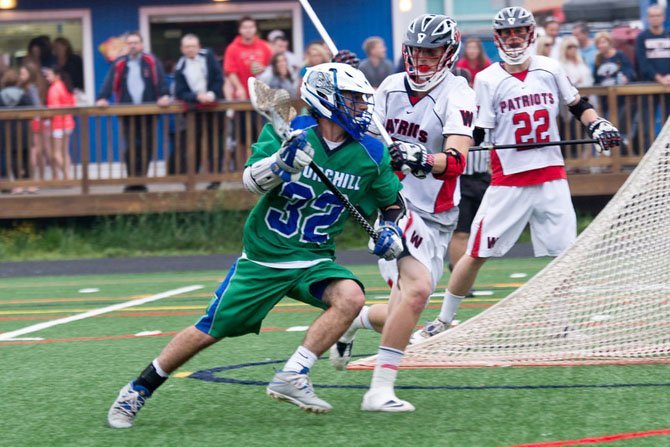 Louis Dubick has been an offensive playmaker since joining the Churchill boys' lacrosse team as a freshman. Whether scoring goals (he netted a career-high eight against Damascus last season) or distributing to teammates (he produced a career-high 10 assists against Springbrook as a sophomore), Dubick has amassed 346 points in three seasons.
The two-time US Lacrosse All-American, who is committed to the University of Maryland, has helped lead Churchill to three consecutive 4A/3A West region championship game appearances, and a pair of region titles. Dubick recently participated in a Q and A via email with The Almanac.
*Almanac: Did you recently take part in the World Lacrosse Championship with team Israel? What was that experience like?
Dubick: Yes, I flew out to Denver to help coach my little brother Eliot's Bethesda Lacrosse U9 team. While I was out there I was fortunate to play in four exhibition games with team Israel. I participated in exhibitions against the Netherlands, England, Turkey and Finland. The Turkey game was especially fun, as one of my Churchill assistant coaches, Bertan Unal, plays for Turkey and was covering me for part of the game. The whole atmosphere at the World Festival was amazing. The festivities were non-stop when it came to youth games, tournament games and lacrosse related vendors. It was an experience I will never forget.
*Almanac: You're committed to the University of Maryland. What made Maryland the right fit for you?
Dubick: Maryland was the perfect fit for me: close to home, great coaching staff, all the guys are really tight knit, the academics are top flight. Being a third-generation legacy at Maryland (my dad and grandfather both played at UMD), the chance to play for an NCAA national championship and being on the "Maryland State" lacrosse team is something that really means a lot to me.
*Almanac: At what age did you start playing lacrosse? When did you realize playing college lacrosse was a possibility for you?
Dubick: I started playing lacrosse when I was around 2 or 3 years old. I first realized playing college was a possibility when I made the Baltimore Crabs U-13 team, one of the prestigious clubs located in Baltimore.
*Almanac: Do you play any other sports at Churchill?
Dubick: I have also been on the golf team at Churchill for all three years and look forward to being the captain this year.
*Almanac: What is your favorite memory from your first three years of high school lacrosse?
Dubick: My favorite memory from my first three years of high school lacrosse for sure has been the two regional championships that we have won during my first three years. The teams were composed of great guys that worked so hard, and that would do anything for one another. [Everyone worked] hard and that paid when winning the regional championship --- that feeling is something I will never forget and hope to experience again next year.
*Almanac: What kind of traits, physical or mental, does it take to be a good lacrosse player?
Dubick: I think the mental part of lacrosse is much more important than the physical part. Yes, depending on what you play, it is important to possess physical tools like quickness, speed, or strength. However, players like myself, who aren't the biggest or fastest can still outsmart the defense by being in the right spot or making the right play. One can have the physical tools, but if they aren't smart with the ball or use their physical attributes to their advantage, they fall back in the pack of lacrosse players. I guess the appropriate answer to the question would be in order to be a great lacrosse player, one should have some combination of smarts, skills, and athleticism.
*Almanac: Who is your favorite music artist? Why?
Dubick: Probably Avicii, because I don't really know anyone else. I'm the last guy to put their phone in the speakers during pregame.
*Almanac: What is your favorite movie? Why?
Dubick: 'Zero Dark Thirty.' It was really cool to see such a big day in the lives of Americans put into film.
*Almanac: What is your favorite food?
Dubick: Hot dogs and baked beans, it has been my go to since I was a little kid.
*Almanac: Do you enjoy video games? If so, which is your favorite?
Dubick: I rarely have time to play video games in between the shooting, workouts, games, and coaching, but when I do get a chance, FIFA is always the game that is in.
*Almanac: What is your favorite hobby outside of lacrosse?
Dubick: Favorite hobby outside lacrosse is definitely golf. After lacrosse season it's nice to get a change of pace in. It's a very relaxing game and always a good time to just hang out on the course.
*Almanac: What location is the farthest you have traveled from the Washington, D.C. metro area?
Dubick: This is a really weak answer, but Los Angeles. Unfortunately, I have never been out of the country.
*Almanac: Are you a pro sports fan? If so, who are your favorite teams?
Dubick: I enjoy watching pro sports. My teams are the Ravens and Wizards. I am much more of a college guy, though. I love the Terps.