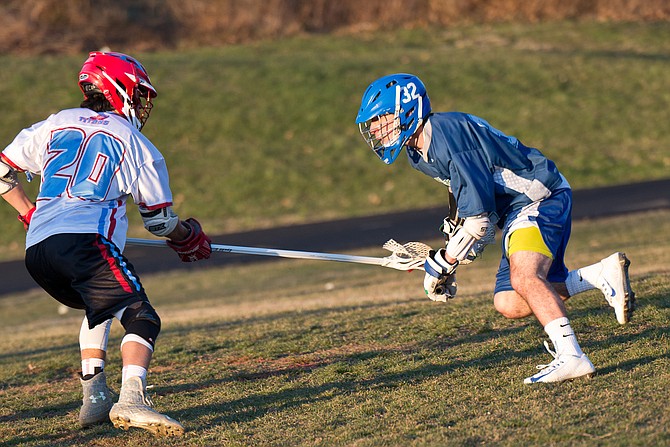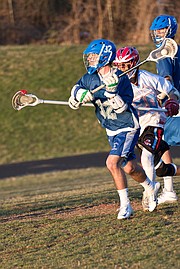 Louis Dubick's lacrosse skills were evident when the attackman was a freshman on the Churchill varsity team in 2012. His ability to not only score goals, but see the field and distribute to others made him one of Montgomery County's most potent offensive weapons.
The following season, Dubick's teammates thought so highly of his leadership qualities they voted him the first sophomore captain in Churchill history.
In three seasons, Dubick helped the Bulldogs to a trio of region final appearances and a pair of region titles. While Dubick's impact on the Churchill lacrosse program can be measured in part by the championships he helped bring to the Bulldogs, his place in Maryland high school lacrosse history was cemented by a goal on March 26.
Dubick broke the state record for career points during a 16-­3 victory over Damascus on Thursday. Dubick caught the ball at the top left side of the box and, after a split dodge, deposited the ball in the cage over the goalie's left shoulder, giving him 381 points for his career.
The previous record of 380 points was held by Mikey Wynne, a 2014 graduate of St. Paul's, a private school in Brooklandville, according to laxrecords.com. Wynne is now a freshman attackman at the University of Notre Dame.
Dubick, who signed to play with the University of Maryland, said breaking the points record was a product of his desire to be successful.
"It wasn't like, 'I'm going to break the points record,' it was more like, 'I'm going to come in here and try to be as successful as I can and do as well as I can and put as many points on the board as I can — but, obviously, win at the same time,'" Dubick said. "It's something that just added up over my career and I've been lucky enough to play with guys who helped me get there and guys that made me a better player and hopefully I've done the same for them."
Dubick finished with four goals and seven assists against Damascus. On Monday night, No. 32 added one goal and six assists during a 19­2 victory at Einstein, giving Dubick 393 points for his career.
Wynne holds the state record for career goals with 241. Dubick has 198 and is fourth on the all­time list, one spot ahead of 2013 Churchill graduate and former teammate Matt Leonard.
Patrick Mull, a 2009 Fallston graduate, holds the career assist record with 232. Dubick is third with 195.
"We knew right away he was a special player," Churchill head coach Jeff Fritz said. "When he was a freshman, his vision was unreal. He had as many goals as he did assists. ... Sophomore year, he became a captain and has really matured into being a leader off the field, as well as on. He helps lead offseason practices, offseason workouts, offseason weight­training sessions, he's a second coach on the field ... [and] he's the type of player that makes everyone around him better."
Dubick and the Bulldogs are off to a 3-0 start in 2015, with lopsided victories over Kennedy, Damascus and Einstein.
After winning back­to­back region titles in 2012 and 2013, Churchill lost to rival Wootton, 14-­12, in the 2014 4A/3A West region final.
"Last year was frustrating because we felt like we had [Wootton] in the regional final," Dubick said. "... They were more disciplined, they had some more seniors, some more leadership and it motivates us because we know we were better than that last year and we know that we're better than that this year and we have a good shot at winning the region. Anything short of that ... would be a disappointment, especially for me and especially for the rest of the seniors."
Along with Dubick, midfielders Derek Altobello, Marshall Rhodes and Nick Muscarella are key senior contributors. Junior Markus Hurd is the team's starting goalkeeper.
"We're deep right now," Fritz said. "It's a great time to be a Bulldog."
Churchill faces Northwest at 7 p.m. tonight.
"I really want to see Montgomery County win a state championship," Fritz said. "I would love for us to be the team to do it."