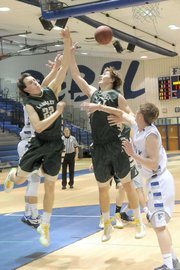 As a senior, Garrett Collier was an all-region wide receiver on the highest-scoring offense in Langley football history. He was also a defensive back and an all-conference kick returner and punt returner. A broken collar bone knocked him out of the final game of the season, but Collier played a significant role in helping the Saxons finish 9-3, including a playoff victory over Battlefield.
While Collier had a strong senior season on the football field, his future is on the hardwood. An all-conference basketball player at Langley, Collier signed to play hoops at Denison University in Granville, Ohio. Collier, a three-year varsity football and basketball player at Langley before his 2014 graduation, recently participated in a Q and A via email with The Connection.
*Connection: What made Denison University the right fit for you?
Collier: I developed a solid relationship with the coaching staff, it had the perfect balance of strong academics and social life, a beautiful campus, and I just felt at home when I visited.
*Connection: What is your major?
Collier: Economics.
*Connection: At what age did you start playing basketball? When did you realize playing college basketball was a possibility for you?
Collier: As early as I can remember. From a very early age, I always wanted to play college sports, I just wasn't sure if it would be basketball or football.
*Connection: You were also a standout football player at Langley. Did you give any thought to playing football in college? If so, when did you make the choice between football and basketball?
Collier: I didn't expect to have the [senior] season I had in football, so I didn't give much thought to playing in college. By the time I received interest, I had already committed to Denison.
*Connection: You broke your collar bone during football season, correct? In which game did you break it?
Collier: I broke it during our regional quarterfinal game against Stonewall Jackson.
*Connection: How long were you out? How difficult was it to miss time?
Collier: I had surgery a couple days after the game, and was out for about six weeks. I missed the first 10 games of basketball, which was difficult for the team because we were so young. The slow start hurt some of the younger players' confidence, and I believe that was a big reason we weren't able to be as successful as we wanted to.
*Connection: What is your favorite memory of playing high school basketball? What is your favorite football memory?
Collier: My entire junior year basketball season was one great memory in itself. I could say the same about this past football season, but I'd say getting revenge on Chantilly and smashing crosstown rival McLean.
*Connection: If you could go back and change one thing about your high school athletic career, what would it be?
Collier: I wouldn't have let [Wakefield's] Re'Quan Hopson shoot the buzzer-beater 3-pointer that knocked us out of regionals [in 2013].
*Connection: What are you most looking forward to about the transition from high school to college?
Collier: The step up in competition and the freedom of living on your own.
*Connection: Who is your favorite music artist? Why?
Collier: Nas. No explanation needed. The Rolling Stones are also a favorite.
*Connection: What is your favorite movie?
Collier: 'Pineapple Express,' any Will Ferrell movie and 'Django Unchained.'
*Connection: Do you play video games? If so, which one is your favorite?
Collier: FIFA is life.
*Connection: What is your favorite hobby outside of basketball and football?
Collier: I love to golf and just hang out with friends.
*Connection: What location is the farthest you have traveled from the Washington, D.C. metro area?
Collier: Russia.
*Connection: Are you a pro sports fan? If so, who are your favorite teams?
Collier: All D.C. sports teams. HTTR.