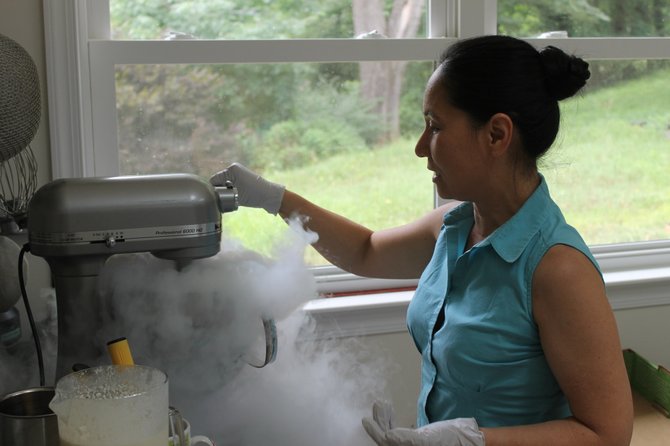 Even with flavors that contain vegetables like beets and rhubarbs, children and adults alike are crazy for Craig and June McMullen's homemade, fresh and natural ice cream.
"It's a great way to get kids to eat vegetables," June said.
The couple makes their ice cream using liquid nitrogen, a phase that has swept the nation in the last ten years or so, says Craig McMullen, who is the executive sous chef at the Ronald Regan Executive Building.
"It's a fun way to make ice cream, and it allows us to use fresh fruits and vegetables," Craig said.
The result is a creamy treat that has been very popular at farmers markets in the area. The McMullens have named their business "Nitro's Creamery" and have been selling their creation at markets at the Lorton Farmers Market and the Fairfax County Government Center.
At the farmers market, the McMullens make the ice cream using liquid nitrogen from scratch, allowing customers to watch the entire process, usually lasting about a minute.
"Kids especially love seeing how the liquid nitrogen works," June said.
Food is a passion of the McMullen family-they used to own a bakery. Even their son helps out with the ice cream making and is always eager to try new flavors.
"I just love to make good food," June said. "I love ice cream."
Everything from Nitro's Creamery is made from scratch, using natural ingredients. June and her husband are always looking for new fruits and vegetables to use in their ice cream.
"Nutella flavored ice cream is one of the most popular flavors," June said. "Mango and coconut are also popular, as well as strawberries with rhubarb and beets."
Craig says he is always on the search for local farms to get ingredients from, and the ice cream flavors sold by Nitro's Creamery depend on the time of year and the availability of the fruit or vegetable.
"It's a lot of work, especially using the liquid nitrogen, but it's worth it," June said.
To try ice cream made from scratch from Nitro's Creamery, visit the Lorton Farmers Market at 8990 Lorton Station Boulevard on Sundays from 9 a.m. - 1 p.m. and at the Fairfax County Government Center on Thursdays from 3-7 p.m.