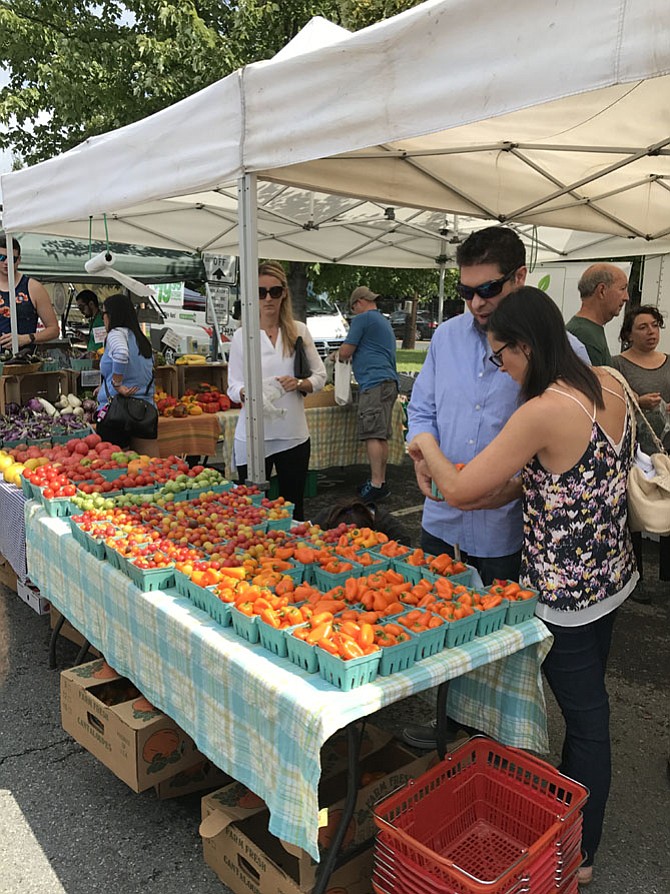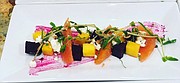 "Fresh vegetables deserve quick, simple, healthy preparation." — Chef Pete Snaith, Culinaria Cooking School
Roasted Beet Salad
2 each, red and golden beets, wash but not peeled.
2 TBSP, olive oil
3 oranges, peeled and segmented
1/4 cup, fresh mint, chiffinade
4 oz., feta cheese, sliced into 1/2" cubes or crumbled
1 mango, sliced in 1/2" cubes
micro greens or pea shoots (optional)
Vinaigrette
1/2 cup, olive oil
2 TBSP., balsamic vinegar
1 TBSP., orange juice
salt and pepper to taste
Preheat the oven to 400° F.
Coat the beets with the olive oil and season with salt and pepper. Place the beets in a roasting dish and cover. Place in the oven and roast for about 1 to 1 and a half hours or until tender. Remove from the beets from the oven and let cool. Peel when cooled. Cut into 1/2" pieces
While the beets are roasting, prepare the vinaigrette. Place the ingredients in a bowl and whisk to combine.
Place the beets, mango, orange, and pea shoots in separate bowls. Drizzle each with a tablespoon of vinaigrette and toss to coat.
Arrange the salad attractively on the plate. Top with pea shoots and drizzle with the vinaigrette and top with the mint.
With her one-year old daughter in tow, Ellen Knight poked at apples and caressed peppers on a Sunday morning at the Bethesda Farmers Market. The activity is part of her weekend ritual, searching for the freshest, most flavorful seasonal fruits and vegetables to use in meals throughout the rest of the week.
"I'm a little neurotic about produce and farmers markets," she said. "I try to only buy at farmers markets and only buy what's in season. I'm excited about fall and the new changes in what's coming in from the local farms."
As the weather gets cooler and temperatures drop, the bumper crops of fall can be found in flavorful abundance at farmers markets, grocery stores and even backyard gardens. Among the most nutritious and readily available produce are cabbage, peppers, squash, beets and other root vegetables, says Chef Pete Snaith of Culinaria Cooking School in Vienna.
"The fall harvest is a glorious time for peak-of-the-season vegetables and fruits," he said. "Farmers markets will be piled high …."
With a flavor that can be the basis of both sweet and savory dishes, sweet potatoes are one of the most nutritious foods to debut in fall, says nutritionist Allison Speer of the Speer Nutrition Group in Alexandria. "They're loaded with potassium and vitamin E," she said. "In fall there's a greater variety available like Purple Stokes, Garnet and Hannah.
Choose small or medium-sized sweet potatoes that feel heavier than they look, advises Speer. "Store them in a dark place and keep them cool, but not cold," she said. "Letting them get cold ruins the flavor."
Winter squash is an umbrella term for a wide-range of squash varieties with thick, tough skins, such as butternut and acorn. Most readily available beginning in early fall and slow to go bad, winter squash can be stored whole for several weeks, says Arlington-based dietitian Melissa Hawkins, RD. "They are full of vitamins A and C," she said. "The also have a lot of potassium and fiber, which can make you feel full and satisfied for a longer time."
Hawkins also touts the versatility of winter squash. "I like to use butternut squash or pumpkin in soup," she said. "Acorn squash can be made into a puree. One of my favorite things to do is to spiralize winter squash to make spaghetti or noodle-like strands that I use instead of pasta. It's super easy and deeply satisfying."
Though its trendier cousins kale and Brussels sprouts get more hype, Hawkins says that cabbage is a versatile superfood that should not be overlooked. "There are so many varieties like Savoy and Napa and it's full of vitamins C and B6 and fiber," she said. "Leafy greens in general, like chard, mustards and kale, are nutrition powerhouses and are at their best in the fall."
Cabbage and other greens are low and calories and can be prepared in a myriad of ways, adds Speer. "One of the simplest ways to cook them is to roast them or stir fry them," she said. "Cabbage can also be stuffed or turned into slaw."
Most commonly seen in dark red, beets come a variety of colors like white, pink and orange. They're earthy, sweet and nutritious, says Hawkins. "Eating beets is almost like taking a big multivitamin," she said. "You're getting vitamins, A, B and C, plus iron, potassium, folic acid and beta-carotene."
Beets can be eaten raw or prepared in a variety of ways, says Speer. "You can roast them, puree them or even make beet chips," she said. "They can stain your hands and clothing so you have to be careful when handling them."
Among the foods most often associated with fall are apples. With varieties ranging from tart Granny Smiths to sweet Fujis, there's an orb for every palate, says Speer. "Apples are packed with fiber and vitamin C," she said. "You can slice them or eat them whole, so they're accessible and easy to carry and eat."
Select apples that are firm and without blemishes or bruises, and coat them with lemon juice after they've been cut to keep them from turning brown, advises Speer.
Choosing produce that is fresh and in-season, makes it easier to prepare them with little fuss so that their nutritional value is preserved. "Fresh vegetables deserve quick, simple, healthy preparation," said Snaith "Steaming, blanching, grilling, and roasting quickly come to mind. Apples, watermelon, and peaches are abundant now as well. You can top off a delicious meal with a light dessert of baked apples or grilled peaches with homemade vanilla ice cream."