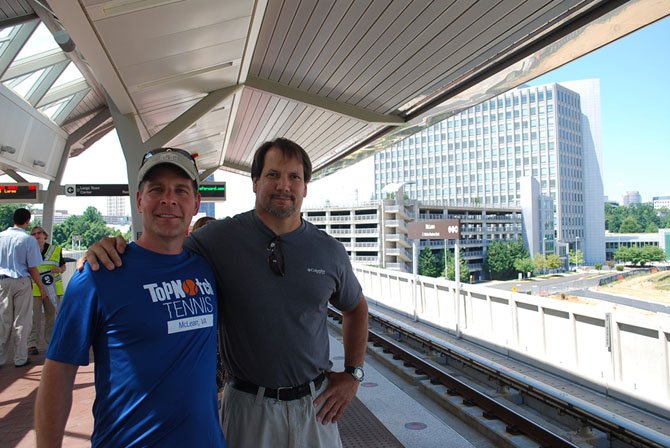 Viewpoints: How will the Silver Line affect the area?
Andy Marshall, Great Falls
"The area will expand. This connects people from all the way out in Reston to Maryland. It will change our community."
Darren Ewing, McLean
"Metro has changed the character of the area. Everyone, not just people going into DC for work, will ride. And more people will come here, too."
Emy Dillon, McLean
"It's a convenient new way to travel for both commuters and residents. People will move around differently, so this will definitely change Tyson's. "
William Varona, McLean
"With the metro, more people will come to Tyson's. I'm kind of impressed, too. This is a solid, well-thought out station."
It was 12:23 p.m. Saturday, July 26 when for the first time, a full Silver Line metro train zoomed from Reston, through Tysons Corner and into the new McLean metro station.
The gates of the station opened at 11:30 a.m., letting in about 30 people who had been waiting to enter. At noon, riders were allowed onto the platform. Orange Line trains began heading to both Largo and Wiehle-Reston East almost immediately — a temporary move until the first Silver trains in both directions made their ways to the McLean station. Currently, the Orange and Silver lines split at East Falls Church.
A mix of train enthusiasts, police, reporters and area residents crowded the platform waiting for the first Silver Line train to arrive, though many came for different reasons. Throughout the stations were Metro representatives handing out free silver flags to commemorate the opening day.
"In the long run, this will bring some business and more residents," said David Won of McLean. "I'm elated," he said, "because this will change my life a little. I don't need to go to West Falls Church now that this stop is so close to my house." Not wanting to miss the first day, Won said he was happy because the metro is another way of connecting people in Northern Virginia to Washington, D.C.
"I'm here today because why not," said William Varona of McLean. "I'm kind of impressed, too. This is a solid, well-thought out station."
Emy Dillon of McLean said she likes the convenience of the new metro line, even not for commuting. "The metro line is wonderful, and the view is beautiful from here," she said. And though the metro will "definitely change" Tysons, Dillon said it is a nice travel option to have available.
Amongst the growing crowd were many parents with their young children, most very excited to see a train arrive.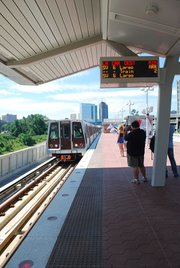 "This is my train aficionado," said Lynn Stein, gesturing to her young son wearing a conductor's hat and clutching a miniature train. "It's been a five year wait, and he is so excited."
Jeehang Lee and his son Nathaniel stood by the tracks waiting for a train, too. "I'm only here for him," Lee said as Nathaniel eagerly asked when a train would arrive. "But hopefully the traffic won't be that bad after this station gets busy," he added.
Next weekend is expected to bring a "packed" silver line, said Metro Transit Police officer J. Anderson.
"Metro has changed the character of the area," said Darren Ewing of McLean. "Even if you don't commute, having it here to go into DC for events is nice," added Andy Marshall of Great Falls. For Saturday, they both were there for the same reason: "the inaugural ride."
Other residents doubted that the full impact of the metro on the McLean community would be seen for another few years. "As exciting as it is to have the Silver Line opening, I don't think we will get the full effect until it connects to Dulles airport in a few years," said Nancy Eveleigh of McLean. "Then the major transport needs of the metro area will be met by not just those of some commuters and shoppers."
After the first train from Wiehle-Reston East left for East Falls Church, there was still one more first — at 12:30 p.m., the first Silver Line train headed through Tyson's to Wiehle-Reston East pulled into the station. "All aboard," the Metro train operator called as passengers walked into the cars.