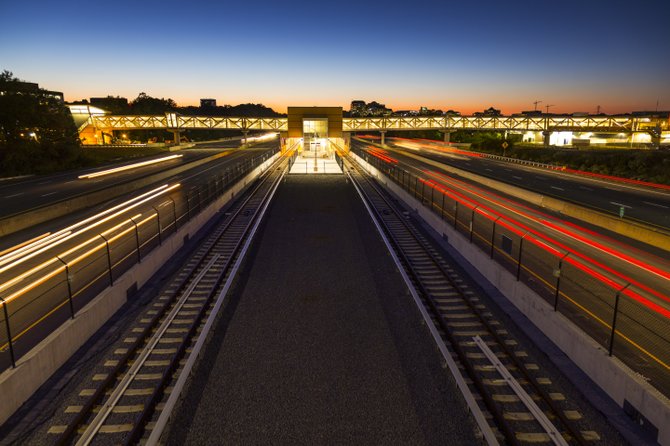 On July 26, the expectations and hopes of commuters in Tysons and Reston will either be met or dashed when the gates to the Silver Line Metro stations are opened at noon.
Phase I of the project - which had to deal with opening date delays for the past two years - may bring traffic into an already traffic-congested area, some fear, but also hold the promise of an economic boom.
"I know that people say that with more businesses coming that there's going to be more traffic," said Greater Reston Chamber of Commerce President Mark Ingrao. "I say it's better that we have traffic and commerce here than nothing at all."
Because the Wiehle-Reston East station boasts a 2,300 vehicle garage, it will attract many of the Loudon County commuters in addition to those in Reston and Herndon.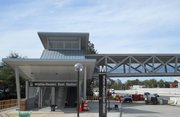 THE WIEHLE-RESTON EAST STATION, according to silverline.com, also has an additional 1,000 parking spaces operated by Comstock. For those who are close enough to pedal to the station, there are 15 bicycle racks as well as a reserved bike room for 200.
"We need to have people get to the metro without driving," said Reston Association President Ken Knueven. "I rode my bike to the metro station, and it's not difficult for me. Until both phases are finished, there will be an influx of people coming from the west and parking here, but I only see that as a short term problem."
"You'll see significantly improved bus transit services in the surrounding areas."

-- Supervisor John Foust (D- Dranesville)
Ingrao, who said GRCC has been pushing for the Silver Line during the past five years, said more D.C.-area residents are going to want to move to Reston because of the jobs being created by developers.
"I think you're going to see a reverse commute phenomenon, and this will be a game changer," he said.
With the population boom will come an even greater need for better pedestrian walkways and bicycle paths.
As the stations were being finished, meetings were being set up in Reston seeking avid bicyclists and those who are within walkable distance to the station about the best places to put new sidewalks and bike lanes.
The Washington Metropolitan Area Transit Authority announced that the Silver Line reached "substantial completion" in May. However, just a year ago, Metropolitan Washington Airport Authority pushed the opening date from last December to this February after the original plan's September 2013 substantial completion goal snagged an eight week delay.
In February, MWAA rejected a notice of substantial completion after seven of 12 key criteria - including incomplete testing and documentation security verifications - had not been met by Dulles Transit Partners.
Phase II will eventually take the Silver Line into Loudoun County.
Now that the date and time of the opening for the Phase I stations has been determined, training has started. On Sunday, the Spring Hill Metro station had an emergency scenario drill with countywide emergency responders.
Artists and urban developers held a brainstorming session last month to turn the Tysons-area stations into visually appealing walkway. Additionally, WMATA is selecting 10 people to be a part of the first ride from the Wiehle-Reston East station on June 26 if they enter on the Silver Line website.
TRAINS WILL RUN every 6 minutes during rush hour and every 12 to 20 minutes during off-peak times, according to a statement from WMATA.
According to WMATA Public Information Officer Philip Stewart, station boardings after one year will be:
Wiehle-Reston East: 8,244
Tysons Corner: 5,209
Spring Hill: 4,002
McLean: 3,803
Greensboro: 3,306
Actual ridership, he said, will be double those statistics.
Because this means thousands of people will be heading towards stations that do not have any parking space - Tysons Corner, Spring Hill and Greensboro stations - bike paths and bus routes will be beefed up.
"You'll see significantly improved bus transit services in the surrounding areas," said Dranesville Supervisor John Foust. "We're also planning dramatic road improvements."
Foust sees the influx of commuters heading to the stations as economy drivers who are stimulating developers to build more in the area. He foresaw that, with less people using cars in their commute to Tysons, that traffic through Route 7 would be less congested.
McLean Citizens Association President Sally Horn also sees the economy being boosted by the stations, but does not think Metro will be a realistic option for most McLean residents. The McLean station has five bus bays total and 26 bicycle racks.
"I'm hoping that the arrival of metro next month will be a positive game changer for the Tysons area, spurring positive economic development and community," she said in an email. "I also hope that the arrival of metro will help to reduce traffic congestion as more people opt to take metro to and from Tysons.

"I am concerned, however, that the lack of any parking at three of the four stations in the Tysons area means that metro will continue to not be a viable option for most current residents in the greater McLean area as most of McLean is not on any bus route now and will not be getting access to buses that could take them to the metro stations once the Silver Line opens; only the McLean station has any parking and that is limited to about 730 spaces."
Most officials are cautiously optimistic about the station openings, with visions of toll road corridor revitalization in Reston's case and decreased traffic in Tysons case.
But there is still work to finish, most agreed.
"We're enthusiastic," said Knueven. "It's critical for us and we will be a critical voice for our stakeholders. There's work to be done, but we're excited. This is only the beginning."
For more information on the Silver Line, visit http://silverlinemetro.com.