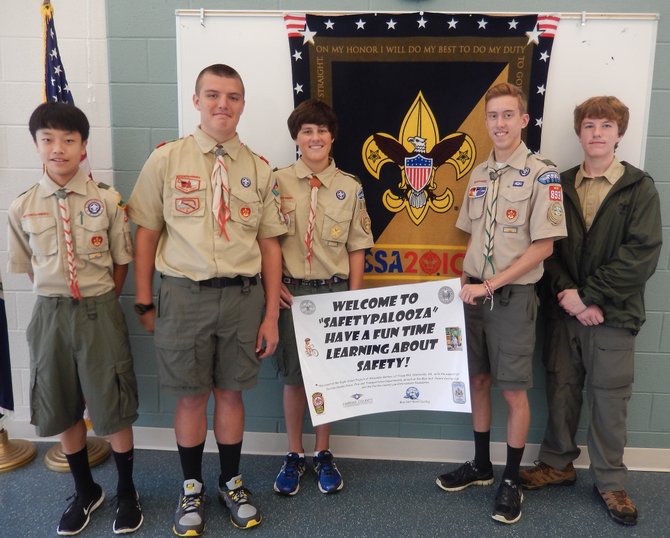 Thanks to 15-year-old Boy Scout Alex Battani, several local children know more about bike, bus and fire safety, as well as avoiding strangers. A rising junior at Westfield High, he put on a Safetypalooza at the Sully District Police Station.
Also participating was police Crime Prevention Specialist Tara Gerhard, with that station, plus firefighters from the Springfield District Station and members of the Blue Suit Pacers Cycling Team.
Alex, a Life Scout with Troop 893 of Centreville United Methodist Church, plays JV football at Westfield and has a black belt in Tae Kwon Do from Highkicks in Centreville. He organized the Safetypalooza as his Eagle Scout project.
The idea came about after Alex and his dad, Bob Battani, attended a Citizens Advisory Committee meeting last year which showcased the Police Department's bomb squad and bomb-sniffing dogs. For his Eagle project, Alex thought he might build something useful for the police, such as cabinets for equipment or obstacles for the K-9s.
He met a couple times with Gerhard and with Sully District Station Commander Ed O'Carroll, who were enthusiastic about helping him. After O'Carroll mentioned that safety training for children would be a good idea, Alex decided to hold a Safetypalooza.
Since Alex knew Scouts whose parents are firefighters or have connections with the FCPS Transportation Department, he was able to obtain the Fire Department's smoke house (used for training purposes), plus information about school-bus safety. And the county Law Enforcement Foundation helped him find a bicycle club to come teach bike safety.
"The Scout leaders were amazed when Alex presented his proposal and said it was one of the most aggressive Eagle Scout projects they'd seen," said Alex's father. "We feel it was a great success and thank Capt. O'Carroll and Officer Gerhard for helping it become a reality."
At the event, held Saturday, June 21, children ages 6-10 rotated through various safety stations. "For bike safety, we told them to wear a helmet and to clean their bike so it doesn't have rusty chains," said Alex. "We also talked to them about the importance of being seen clearly at night."
On buses, he said, children were told not to yell and distract the bus driver. "We told them to stay in their seats while the bus is moving and to keep the aisle clear," said Alex. "We said, 'Don't run to the bus stop, and make sure the bus driver can see you when you cross in front of the bus.'"
The Scouts were able to use the smoke house because Scout Austin Huehn's father is a firefighter at the Springfield fire station. "It simulates smoke inside of a house, and two firefighters taught the kids how to get out of it safely," said Alex. "They also learned not to touch anything hot, like door handles, to try to climb through a window and to stop, drop and roll."
Gerhard taught them about stranger-danger. "She told the kids not to accept things from people they don't know, without asking their parents," said Alex. "Don't talk to strangers and know who your trusted adults are, such as parents, relatives and neighbors."
She taught the children not to go anywhere, such as an alleyway, that doesn't seem safe, and never to get into a car with a stranger. "They also learned what to say when a stranger confronts them," said Alex. "They should say no, walk away and tell a trusted adult."
Overall, he said, the event "really went well. It was a good way for kids to get this information all in one place and in a couple hours."