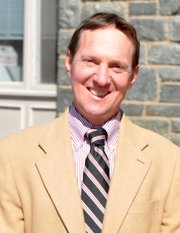 When the 2014-2015 school year opens in a few weeks, Norwood School will have a new leader at the helm. The Board of Trustees for the Bethesda school named Matthew A. Gould, Ph.D., as the new head of school earlier this month. Gould replaces Richard T. Ewing Jr., who retired from Norwood after 35 years.
"Having grown up in the D.C. area and worked in various schools for the past 25 years, I was well aware of Norwood's reputation as one of the largest and finest kindergarten-through-eighth grade schools in the country," said Gould. "I was impressed with Norwood's deep commitment and passion for educating the whole child in a joyful, nurturing and challenging learning environment. It was important for me to be in a school community that puts children at the center of everything."
Norwood teachers are optimistic about having a leader who shares the school community's philosophy, values and vision: "I'm struck not only by his intuitive understanding of Norwood's spirit and values, but by the energy and creativity he brings to his new role," said Carole Freret, a middle school English teacher. "He exemplifies the very things he values in us."
"I look forward to having Matthew visit my classroom, observe my teaching, provide feedback and help me grow as a professional," said science teacher Claudia Sorenson. "His passion for educating young children and his dedication to outstanding teaching are infectious."
In fact, Gould is already immersing himself in the community. "I have spent the summer meeting one on one with every teacher and staff member, every board member and many parents," he said.
"I'm naturally very hands-on and will be out of my office more than in it," he continued. "Interacting with students and teachers on a daily basis is a huge goal of mine. Every child will know me and interact with me, and I will know them – their interests, hobbies, favorite books, their pets' names, what makes them tick."
Gould plans to make himself accessible to parents as well, getting to know them and listening to the goals they've set for their children. "Norwood is very much a family school, so one of my top priorities is getting to know the families here," he said. "I love being around people, so I'll be everywhere – shaking hands with children when they arrive in the morning, visiting classes, going to games, and attending school events."
Gould, who grew up in Chevy Chase, received his doctorate in education from the University of Chicago. Most recently, he spent the last 10 years as the head of Community School in St. Louis. Gould began his career in education as an elementary school teacher at Newtown Friends School in Pennsylvania.
His experience leading a school similar to Norwood and his child-centered approach to education and decision-making were attributes that made Gould attractive to the Norwood community.
"He is a warm and caring educational leader who models Norwood's motto that 'how you lead your life matters,' and who will inspire and lead Norwood into the next chapter of its history," said Calvin C. LaRoche, chair of the Board of Trustees and a Norwood parent. "He will ensure that Norwood continues to be a school where children grow, succeed, and are challenged in a happy, nurturing and supportive environment."
That child-centered approach to education, an approach that recognizes each student's strengths, was one of the factors that led to Gould's decision to accept the position as head of school at Norwood.
"While I am greatly impressed with the high standards and level of rigor at Norwood, I am most impressed not to see it on the faces of the students," he said. "Norwood teachers do a great job of masking the rigor of its program by creating a happy learning environment and nurturing a love for learning. Creating a safe and nurturing environment leads to rigor in a healthy way. When children feel loved and safe, they are willing to put themselves out there, try harder and take risks."
After a summer of planning, Gould is looking forward to the new school year. "I can't wait for the students to arrive in September," he said. "I'm ready."