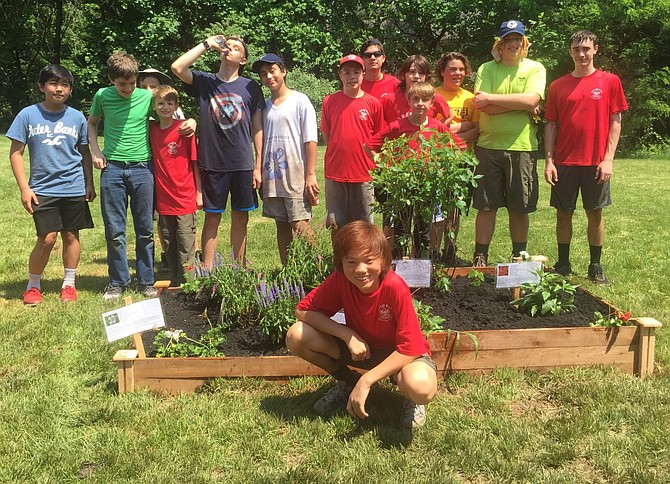 On Saturday, May 26, Eagle Scout candidate Jamison Alexander Huang of Troop 673 gathered in Great Falls with his parents James and Deborah Huang and 30 Scout and parent volunteers to install a learning and butterfly garden for Forestville Elementary School. This project was Jamison's Eagle Scout service project.

The project entailed construction of four cedar planter boxes, removing sod, transporting soil to the boxes, building trellises and planting seedlings and various plants. Jamison was involved in all stages of this project from planning, fundraising and managing the construction and planting.

Jamison is a seventh grade student at Cooper Middle School and member of Boy Scout Troop 673 of Great Falls since he crossed over from Cub Scouts in March 2016. Jamison has been a Scout since the age of 6. He was a Cub Scout with Pack 3944 in Beijing, China, transferring to Pack 673 in October 2014. Jamison quickly achieved the rank of Life Scout by the September 2017. Additionally, he was inducted as a member of the Order of the Arrow (OA), Scouting's National Honor Society, in June of 2017, and most recently achieved OA Brotherhood.

The building, installation and planting of the raised bed gardens at his former elementary school fulfills the Eagle Scout requirement of service to the community and is a wonderful contribution to Forestville Elementary. The learning garden will allow students of all grades to become responsible caretakers and will provide hands-on learning by bringing science, math and social studies to life.

Three of the raised beds will be used for the purpose of growing plants – all of which are native Virginian species. These native plants include flowers such as coneflowers, veronica, clethra and geraniums, fruit bushes such as raspberry, blueberry and blackberry, and vegetables such as beans and squash. Swamp milkweed was planted in the final planter box to create a butterfly garden that would attract Monarch butterflies.

A major accomplishment for Scouting is to achieve Eagle Scout status - the highest-ranking achievement in Scouting. To earn this ranking, a Scout must demonstrate Scout Spirit, service and leadership. Jamison is an enthusiastic and active member of his Troop, participating in meetings and outings, such as backpacking, hiking and camping. He has held leadership positions such as Patrol Leader and Den Chief and participates in the Troop's Patrol Leadership Council (PLC) meetings. To date, Jamison has earned a total of 64 merit badges, 21 of which are required for the Eagle Scout rank. He will continue to earn more merit badges at summer camp with his Troop in North Carolina this June. Jamison lists attending the National Boy Scout Jamboree held at the Summit Bechtel National Scout Reserve in West Virginia in July 2017 as one of the highlights of his Scouting career. He will be returning to Summit Bechtel Reserve this summer to attend a high adventure camp in July.
At the completion of his project, the soon-to-be Eagle Scout wanted to express his thanks to everyone who played a role in each stage of the project. "I would not have been able to be successful in this project without the support of my parents, generous donations from family and friends, donations from Home Depot and Meadow Farms, encouragement from the teachers and administrators at Forestville and the hard work of my Troop mates and adult Scout leaders," said Jamison. "I wanted to make the learning garden for Forestville students because I wanted to give back to my community and my elementary school to create a learning environment that will be a powerful environmental tool. It is also my hope that students will grow to appreciate nature at Forestville for many years to come!"