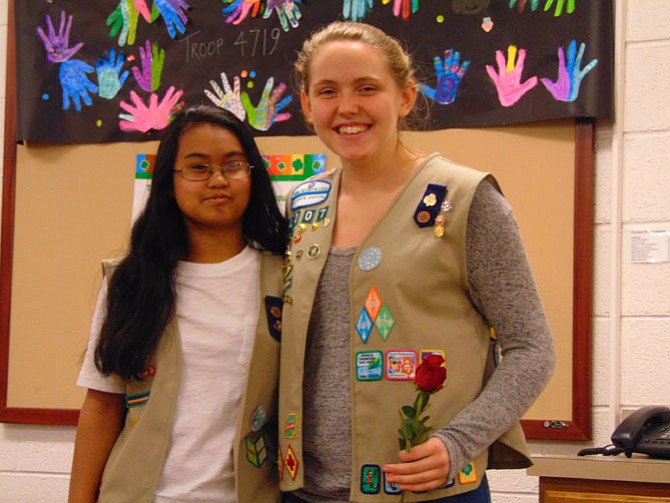 Ambassador Girl Scout Troop 3833 held an Awards Court of Honor for their sister Girl Scouts in Troop 4207 at Westminster Presbyterian Church on Feb. 10. Honored were Ambassador Girl Scouts Brittany Shelley and Nicole Conord. Shelley received her Gold Award, the highest award in Girl Scouting, while Conord received the Silver Trefoil Award.
Shelley's Gold Award was earned in the summer of 2016 when she teamed with Mac Slover, the director of Youth Sports for Alexandria's Recreation Department, her pitching coach Amy Huling, and her Head Varsity Softball Coach at T.C. Williams High School Katie Frawley, to create "The Art of Pitching Academy," a series of five fast-pitch softball pitching clinics. These clinics were aimed at teaching younger girls, under the age of 13, the necessary skills and drills required to become a successful pitcher. During the month of July over 20 girls attended the clinics.
Shelley is in her 11th year of Girl Scouting, beginning her career at the age of six in George Mason Elementary School's Daisy Troop. Previously in her career she earned the Silver and Bronze awards and completed a Senior Girl Scout Journey. She is currently a varsity softball and volleyball player at T.C. Williams. In addition to her Gold Award Team members, many members of Shelley's family were in attendance at the ceremony including her parents, Gordon and Donna, her Nana Shirley, her Uncle Scott, and Aunt Suzy McQuilkin. Her older sister Kayla, a 2015 Gold Awardee herself, administered the Gold Award Challenge.
Conord was honored for earning the Silver Trefoil Award. The Silver Trefoil Award is unique to the Girl Scouts Nation's Capital Council. This award originated in the 1970s as the Little Flower Award in memory of Senior Girl Scout Linda Curtis. Today, the award honors Girl Scout Seniors and Ambassadors who make the world a better place through service in three categories; Girl Scout Community, National, and Global. Each recipient is required to complete 100 hours of service to these communities. Conord was joined at the ceremony by her mom and Troop Leader Beth Conord. Conord is in her ninth year of Girl Scouting and has previously earned the Bronze Award and completed two Senior Girl Scout Journeys.