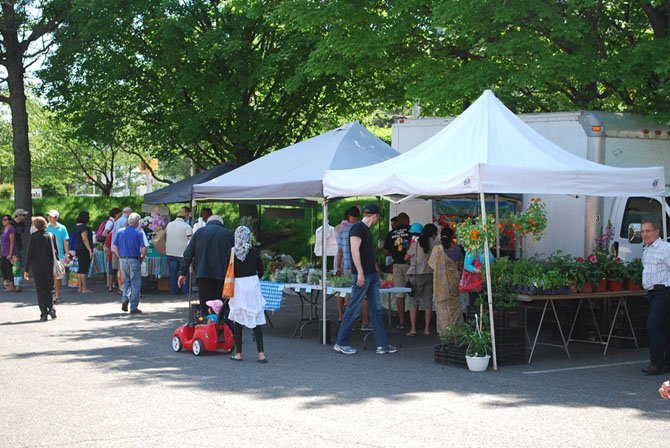 Viewpoints — What do you like about the Tysons farmers market?
Brenda Lowry, McLean
"This is my first farmers market, actually. I'm from North Carolina, so this is nice because it gives the country feeling to this city-like place. Especially with the music."
Sharron Wheeler, McLean
"I come to every market in the area — Falls Church, Vienna … like a connoisseur of farmers markets. This market is a good change of pace for the area. It brings it back down to Earth in a kind of a rustic way."
Jane Vodra, McLean
"I go to all three farmers markets in the area. This one is small and not as crowded as Falls Church, and it has more baked goods. It needs more farmers with produce, but it's nice and hopefully it will grow."
Ed Mamula, McLean
"Well it is right in Tysons and right next to the metro. I've lived here for five years, and when I first got here there wasn't even a grocery store around. In the past few years Tysons has gone from requiring a 10 minute drive to a grocery store to now having a local farmers market, and I expect it to grow."
Carolyn Smith, McLean
"Well I love how close and convenient it is. Having fresh vegetables and flowers nearby is nice. The market encourages more people to buy local, fresh produce. It's on the small side right now, but it will grow larger."
The network of Northern Virginia farmers markets just got bigger.
On the corner of Westpark and Greensboro Drive, the Tysons Corner Smart Markets Farmers Market was born with a grand opening Sunday, June 1 from 10 a.m. to 2 p.m.
With live music being played by the Boundary Stones, a folk group from D.C. and face-paint by Celebrations Face Art, a Woodbridge-based company, the day featured over 20 vendors — fresh produce, breads, eggs, flowers, jams, spices, crepes and pastries were all to be seen.
In the first hour, about 80 people toured through the market, and as the day went on more people came and went. Many were residents of the Rotonda, a condominium community in Tysons, who walked across the street.
At 2 p.m. when the market was closing down, residents took the Tysons Walk down to the new metro station.
"This is a nice way of coming into the community and providing natural, healthy food," said Michael Anthony of Hidden Creek Farms in Star Tannery, Va., adding that his farm comes to other farmers markets in the area.
"I like the idea of people getting into the community and spending money on local businesses," said Vianesa Vargas of Alexandria, owner of Halftime Foods. Her business was started in January, when she and her husband, a nutritionist and a chef, began selling their energy bar, she said. Coming to farmers markets and talking to local residents "gives us a good idea of what our customers like to see on the market," she said.
Lisa Mamula of Tysons said that the farmers make the market attractive. "I grew up on the other side and used to come as a farmer," she said. "I like that it's local, and I hope it will grow."
The farmers market will be open from 10 a.m. to 2 p.m. every Sunday through October.