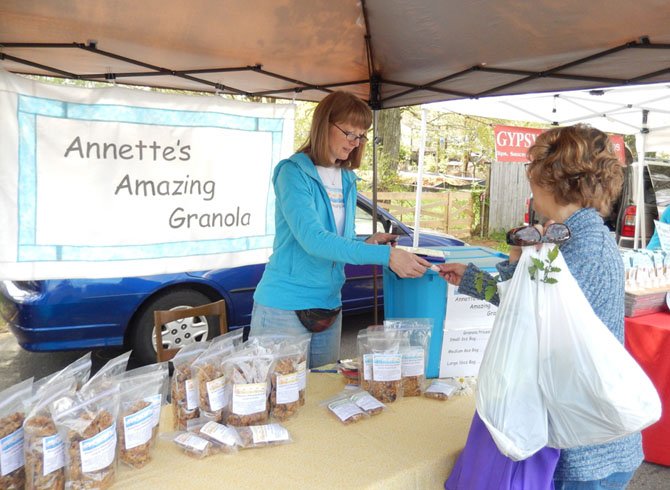 For fresh produce, flowers, crepes, breakfast tarts, candy, baked goods and piping-hot doughnut holes – in a cheerful atmosphere filled with friends and neighbors – the Vienna Farmers Market is hard to beat.
In the parking lot of Faith Baptist Church, 301 Center St. S., it's open Saturdays from 8 a.m.-noon and is definitely a hit with visitors and residents alike.
"I think it's great," said Fair Oaks's Bethany Miller, who went there recently with her sister-in-law who lives in Vienna. "I love supporting the local vendors and buying home-grown produce. Today I bought dahlias, gerbera daisies, strawberries, arugula and a spinach mixture."
Vendor Annette Lane of Vienna was selling three, different flavors of granola that she makes herself. It comes in peanut-butter flavor, coconut and the original, cinnamon-vanilla – all sweetened with maple syrup.
"It's my fifth year here at the market," she said. "It's very relaxed and the people are really nice."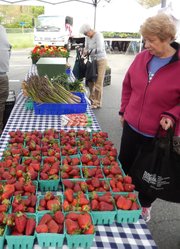 CUSTOMERS Bev and Jim Seacord purchased Lane's granola to snack on at the movies. "I love Annette's granola: I've been buying it for years," said Bev Seacord. She's also a fan of the farmers market. "You get fresh stuff and I love the community atmosphere," she said. "You see kids and parents come here together, and it's good for Vienna to have something like this."
Resident Tom Flanigan was picking out apples, green onions, big red strawberries and a jar of apple butter. "I also bought three bags of the largest size of granola I could get," he said. "It's so good."
"It's nice to have a place to go and get fresh ingredients," added his wife Jessica. They brought their children, ages 16 months and almost 4, and Tom called it "a nice walk on a Saturday morning."
"It's fun for the kids and there's a park next door," said Jessica. "So we've made walking here a tradition." At the market, they bought some canned peaches and were considering purchasing some asparagus and spring onions at Lois's Produce stand.
Among that stand's offerings were strawberries for $4/pint; asparagus, $6/bunch; spring onions, $3/bunch; and gerbera daisies, $10/two bunches. "We've been coming to this market ever since it opened," said Lois's employee Bobby Byrd. "It's a good market; I like the people here. Everybody's so nice and they're good, buying customers. The strawberries are especially popular today."
Husband and wife Joe DiPietro and Stephanie Dodman were among the customers enjoying themselves. They bought eggs, basil plants, pickling cucumbers, parsley and peppers; they also got veggie burritos for lunch from Reuben's Crepes.
"We came last season and were excited for this market to start again," said Dodman. "We like buying directly from the farmers, and it's nice to be here with other members of the community." Besides that, added DiPietro, "We like supporting local businesses, and it's a good way to spend a Saturday."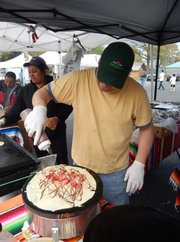 Selecting chives, plus spice mixes for dips, was Vienna's Brenda Huber. "I come to this market every year," she said. "I enjoy the fresh produce, the variety and the local vibe."
Vendor Peggy Savage of Savagely Good offered savory breakfast tarts. They cost $5 apiece and contained caramelized onions, arugula, gruyere cheese and mushrooms. She also sold fudge, buckeye candies, salted caramels, cinnamon rolls, fruit hand-pies, gluten-free cookies and her Virginia State Fair, blue-ribbon-winning lemon bread.
"We've been at this market four years and get lots of regular customers," she said. "It's friendly, has a family atmosphere and the people running it are wonderful. And it's nice to see our regulars' children growing up."
Agreeing, vendor Travis Dragan of The Mushroom Stand – which sells a dozen different varieties of mushrooms – praised the "super-friendly people. This market's low-key, laid-back and family-oriented, which is a great thing. I'm so glad to be here."
IT'S ORGANIZED by the Optimists Club of Greater Vienna and run by market managers Dave Lanphear and Sarah Brady. They've opened up the front lot for special-needs parking and added benches and tables so people can sit outside and eat.
Once a month, the church provides free face-painting, gives out popcorn and sponsors a moonbounce at the market. And, said Lanphear, "The master gardeners will also give people advice about taking care of their own plants."