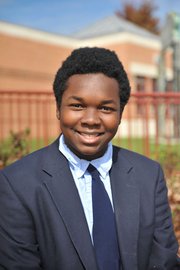 St. Stephen's & St. Agnes School senior TreVaughn Allison is among a select group of students, nationally, to receive a Gates Millennium Scholarship from the Bill and Melinda Gates Foundation. The program, created in 1999, selects 1,000 talented students each year to receive full college tuition at any college or university of their choice. Students can also use the scholarship toward a master's degree and even a doctorate in such fields as computer science, education, engineering, mathematics, and public health. TreVaughn will attend New York University in the fall and plans to major in education.
TreVaughn currently serving as co-president of the Upper School student body. He was elected to a two-year term on the Honor and Disciplinary Board and has represented his grade on the Arts Council of student government in ninth through eleventh grades.
He is a member of the Stage One Players (Upper School drama club), a member of the Japanese Culture and Astronomy Clubs, co-founder and president of the Movie Critics Club, a delegate in the SSSAS Model Organization of American States program, a peer leader, an admission ambassador, and a SummerTimes camp counselor. Additionally, he is a mainstay in the Concert Choir and was inducted into the Tri-M music honorary society last year. He also has run track for the Saints team and managed the softball team.
Last year, TreVaughn won the Senior Award at St. Stephen's & St. Agnes, an honor bestowed by the graduating class on a junior who best represents the spirit and mission of the school.