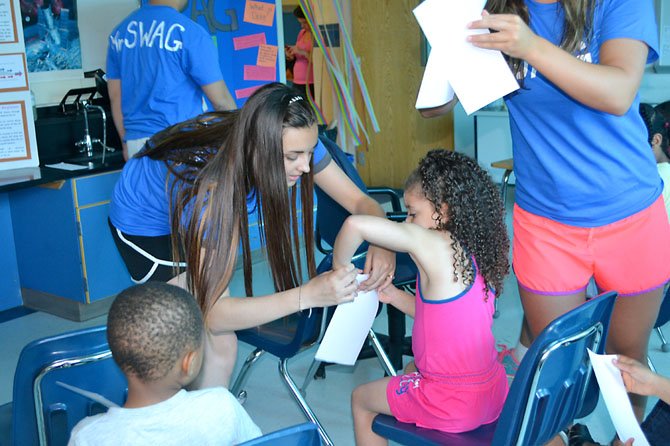 The Lancers provided a piercing glimpse into how young minds can embrace the implications of science and showcase them in a fun and educational way.
Robert E. Lee High School held its second annual Community Science Day, an event where high school students present projects to both judges and interested families. The exhibitions, which were created predominantly by seniors, covered a wide range of topics, from food and calories to cosmic rays. Young children filtered from room to room, engaging in the activities that aimed to cultivate an interest in the subject matter.
"If they get excited early, they can maintain that excitement," said physics teacher and Science Day leader Heather Moore.
Planning for their audiences was one of the toughest obstacles the students had to tackle. Not only did they have to make their presentations cerebral enough to impress a judge, they had to make them interactive and exciting for children. Their mission was to expel any confusion toward science and stimulate the children's interest in the field.
"We are scared of the unknown. The more you know, the less it [appears] scary," said physics teacher Lisa Eggart. "Science is the future."
THE HIGH SCHOOL STUDENTS faced this task wholeheartedly. Many of them had been working on their projects for the past three months, and the effort was apparent in their displays. They organized stations with posters, surveys and hands-on activities to engage their audience.
One such station was an interactive lesson on genetic engineering. Seniors Misheel Batbayar and Shannon Richter created models of fish that could withstand cold temperatures in the Arctic. They then encouraged audience
members to extract the fish's "genes," which were cleverly constructed from pipe cleaners, and blend them with clay tomatoes to make the produce survive in the cold as well. Batbayar and Richter were passionate about their topic and catching children's attention.
"Genetic engineering is the basis for everything," said Batbayar. "It doesn't discriminate against anyone. It impacts all of us."
Seniors Eric Thompson, Conner Eveker, Tai Nguyen and Henrique Moco treated their presentation material with similar enthusiasm. The four of them created a laser display that showcased how sound travels, which they demonstrated through shaking a metal coil, and how light particles move, which they explained through an activity that forced the audience to move around in pairs.
They ended their presentation by turning off the lights and sending lasers every which way across the room. Their goal was to show the scientific side of things, which many people dismiss as fun distractions.
"There's actually physics behind all the stuff at parties," said Thompson.
THE STUDENTS' EFFORTS at rallying the children's attention paid off. Children raised their hands to answer the high school students' questions and eagerly volunteered to participate in the hands-on activities. Jeannett Frank, a mother from Franconia who home schools her children, enjoyed the various learning experiences provided to the children.
"It's lovely," said Frank. "It's important because they're at an age where they absorb a lot."