For the fifth year in a row, complete with cannons, ships and swords, pirates stormed the beach at Pohick Bay Regional Park in Lorton last weekend.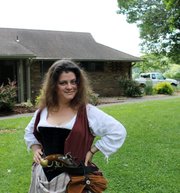 Springfield resident Susan Dix-VerStraten played Anne Bonny, famous female pirate of the 18th century, and said pirate re-enactments like this one are just a lot of fun.
"It's always a great time," she said. "Getting into character is a blast."
Dix-VerStraten, who has been participating in these re-enactments for over ten years, joined dozens of other pirates for this year's Pirates' Day in Lorton.
"Everybody loves pirates," said Paul Gilbert, executive director of the Northern Virginia Regional Park Authority. "It captures the imagination of all kids."
Pirates' Day started five years ago after the waterpark at Pohick Bay was changed to a pirate theme. Since then, attendance at the waterpark has increased by 500 percent, Gilbert said.
Kids of all ages enjoyed this year's re-enactment, which included an authentic sailboat that is identical to those found in the 18th century.
The boat is owned by pirate re-enactors Lloyd and Nancy Robbins, and has been featured in PBS and National Geographic television specials.
Being a pirate re-enactor requires a great deal of study into pirates' history, as well as an outgoing personality, Dix-VerStraten said. Safety is also required, as the cannons used are real and burns can sometimes happen.
"You have to be able to be outgoing and connect with children," she said.
This year, she said playing Anne Bonny was exciting, as she was a strong female pirate whose fate is unknown even to this day.
The cannons were loud, causing many onlookers to plug their ears. After pirates sailed to shore and fought each other with swords and other authentic weapons, they later stormed Pirate's Cove Waterpark.
Pirates' Day showcases the beautiful water at Pohick Bay Park, making it a great place for camping and getting away from everyday life for a little while.
Camping can be an affordable vacation, said Todd Benson, park manager at Pohick Bay.
"You feel like you're a million miles away from everything," he said.
This year, the park is offering paddle boarding, which is essentially standing on a surfboard with a long paddle.
"There's so much to do within the park here. It's not just a campground," said Blythe Russian, the park operations superintendent at Northern Virginia Regional Park Authority.
During the recession, there was definitely an increase in visitors to the park, Gilbert said. Now, those campers continue to come back year after year because they realize how much fun camping can be.