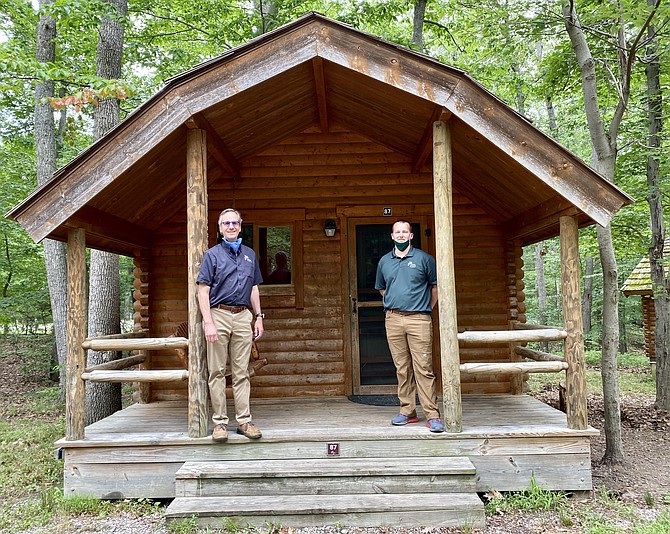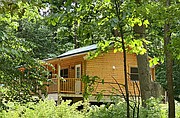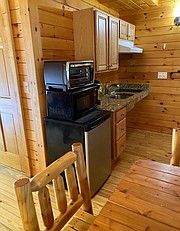 Saturday, June 20, marked the official start of summer, and traditionally, with the end of school, the start of vacation season for many area residents. Though making safe vacation choices during the Covid-19 pandemic is challenging, area parks are ready to welcome vacationers with fresh air and de-stressing camping opportunities.
Three parks in the regional park authority system, Algonkian in Sterling/Potomac Falls, Bull Run in western Fairfax County, and Pohick Bay on the Mason Neck peninsula, have multiple levels of camping experiences available. Whether you are a true pioneer-style rustic, ready for a back to nature adventure in a tent; want to bring your own recreational vehicle (RV); a camper for whom "rustic" means a cabin without running water; or are looking for a bit of luxury away from home in the woods; area parks have a campsite to tempt you. Cabins available with ADA compliance. (*Algonkian has 12 secluded, multi-bedroom cottages; no tent/RV campsites.)
CHOOSING A CAMPING outing at a park puts several outdoor activities just outside your door, or tent flap. At Pohick Bay, campers and other park users have access to fishing; hiking, equestrian, and biking trails; miniature and disc golf; and rental options at the on-grounds marina for kayaking, paddle boarding, and paddle boating; or power boating on the bay. Greg Susanke, of Fairfax, who likes to combine camping with kayaking or birding, camped there recently. "The campgrounds are great with all accommodations, clean, and kept up. I liked that they were concerned with the virus and set up… ", said Susanke. (Note, the nearby water park will remain closed this season and swimming is not permitted for the park's shoreline. Dogs are permitted in the park, but not in cabins.)
Unique to Pohick Bay Regional Park's camping options are two "deluxe" cabins; upgrades from its ten "rustic" cabins. A deluxe cabin provides a completely equipped kitchen, and a spacious, full indoor, private bathroom, as well as air conditioning or heating. All "campers" need to bring to a deluxe cabin is food and linens. Outdoor grilling, fire ring, and picnic table are included, along with back porch seating. "Rustic" cabins have electricity for heat/air conditioning, but are without indoor cooking or plumbing; a comfort station within walking distance provides indoor showers, restrooms, and laundry facilities.
"With so many other vacation options closed to people…we are seeing many people rediscover camping this summer."
—Paul Gilbert, NOVA Parks Executive Director
Brad Jackson, Assistant Manager, leads a small staff whose goal is to "cultivate a GREAT customer experience." Jackson recognizes that, "people want to be out but in a controlled environment and week days are a great time to come now. There are more people on weekends but comfortable distancing." Paul Gilbert, NOVA Parks Executive Director, points to polls indicating only 13-15 percent of people are comfortable with planes and hotels due to Covid-19 concerns. "People want a summer break and this is a great way for a stay-cation."
HEALTH EXPERTS agree that camping is among the safest vacation activities. It's outdoors and campers are more likely to stay with their own family or social group, with less exposure to others. The Centers for Disease Control (CDC) notes the importance of staying active as a means to keep physically and mentally healthy. "In many areas people can visit parks, trails, and open spaces as a way to relieve stress, get some fresh air and stay active." CDC further recommends "visiting parks close to home since traveling distances may require you to stop along the way or be in close contact with others."
Area outdoor enthusiasts seem to agree. Pohick Bay Regional Park, with 143 campsites, saw a significant increase in occupancy, jumping to 41 percent compared to 16 percent for a comparable two week period in early June 2019. Susanke sees camping as "getting away from the hustle and bustle." Gilbert observed, "With so many other vacation options closed to people…we are seeing many people rediscover camping this summer."
Check availability or make reservations on-line at https://www.novaparks.com/.