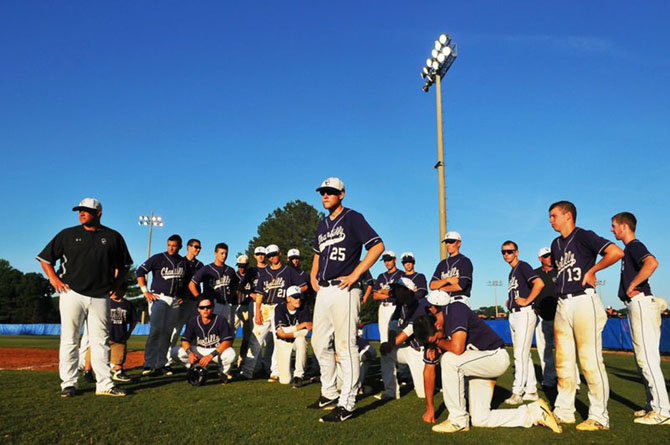 The Chantilly baseball team couldn't find its rhythm early in the Virginia 6A state championship game as Western Branch pitcher Colin Selby held the Chargers to one hit through three innings and scoreless until the fifth. They came alive in the top of the fifth, though, taking a 4-3 lead before losing it in the bottom of the inning.
Western Branch struck first in the third inning, taking a 1-0 lead when first baseman Alex Abbey drove in Jordan Mason from second. The Bruins would continue in the next inning when Kyle McPherson, who was 3-for-4 on the day, drove a solo home run to left field on the second pitch he saw.
Later in the fourth, Justin Hayes doubled to drive in Western Branch's third run of the day, giving the Bruins a 3-0 lead with three innings to go.
Looking down and out, Chantilly center fielder Mike Sciorra reached second base on an error to bring home Tommy Vance, to get the scoring started. With two outs, Colby Ryan and Aaron Osbourne both put the ball in play to take a 4-3 lead.
Despite Chantilly's best efforts, however, Western Branch responded immediately in the bottom of the fifth with three hits in four at bats to regain the lead for a final time, 6-4.
"It was great that we stuck with it and scored four runs," Sciorra said. "Credit to those guys though ... they put the bat on the ball and hit where we weren't on the field."
Chantilly's season may have ended in defeat, but the season was a victory.
"I couldn't be more proud of my boys," Sciorra said. "I've been friends with them since Little League. We're the best team in Chantilly history, and we're walking away with our heads held high."
Chantilly head coach Kevin Ford applauded the way the Chargers fought throughout the season.
"For our guys to come together and make a run in the playoffs after losing our district final, it was just unbelievable," Ford said. "These guys never gave up."