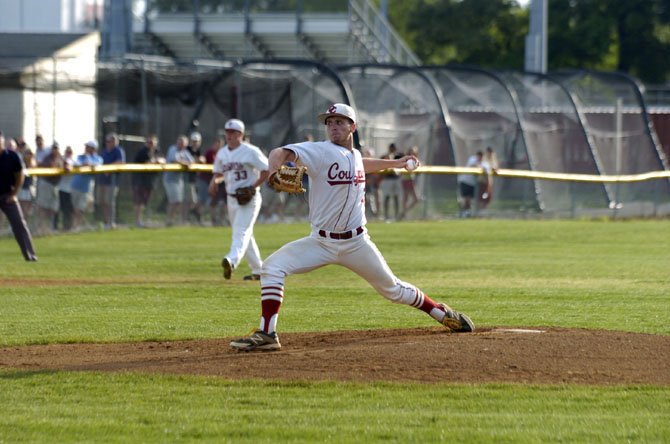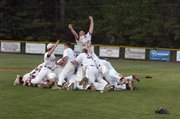 Tommy Lopez's performance during the 2014 baseball season earned him Conference 5's top individual honor: Player of the Year.
On Monday night, the left-handed, strike-throwing senior helped determine he pitched for the conference's best team, as well.
Lopez tossed a complete-game three-hitter against the Chantilly Chargers, leading the Oakton Cougars to a 5-1 victory in the Conference 5 championship game at Oakton High School. Lopez allowed one earned run over seven innings while walking none and striking out six.
"I got Player of the Year," Lopez said, "so I kind of felt like I needed to put the team on my back a little bit and just kind of go out there and win this game."
Lopez put Oakton in position to win by getting ahead in the count. No. 7 tossed a first-pitch strike to 21 of the 24 batters he faced. He threw 60 of 80 pitches for strikes and went to just two three-ball counts.
How important is working ahead for Lopez?
"It's really important, because I don't have an overpowering fastball, so I have to hit my spots," he said. "When I hit them early, I can come back with the off-speed [pitches] that I really like to [throw]. It just makes pitching so much easier."
Lopez allowed just one infield single through the first five innings. Chantilly finally broke through in the sixth, when center fielder Mike Sciorra drove in a run with a two-out double, tying the score at 1. Oakton responded with four runs in the bottom half, however, and Lopez retired the Chargers in order in the seventh.
"He was just outstanding," Oakton head coach Justin Janis said about Lopez. "He just needed to be himself tonight and that's exactly what he did. [He] just [pounded] the strike zone, he mixed his pitches up and that's going to work in high school."
"I got Player of the Year, so I kind of felt like I needed to put the team on my back a little bit and just kind of go out there and win this game."

--- Oakton senior Tommy Lopez
For the Cougars, it was their second consecutive conference/district title. Oakton defeated Chantilly 5-4 in the 2013 Concorde District championship game, and would later finish Northern Region runner-up and advance to the state semifinals. The Cougars graduated several standouts from that team, including second baseman Joey Bartosic (George Washington University), shortstop Mitchell Carroll (UMBC) and outfielder Brian Burns (Mary Washington), but Oakton managed to repeat as champions.
"Every [title] is special in its own way," Janis said. "This is a team [from which] I didn't know what to expect coming into this year, I really didn't. They've really just kind of answered every challenge we threw at them. I'm just really proud of these guys. So many of them put in a lot of time to be good baseball players and I think the game is paying them back a little bit."
Oakton had some young players step up in big moments Monday night. With the score tied at 1 in the bottom of the sixth, sophomore pinch hitter Chris Ivener loaded the bases when his 10-pitch at-bat ended in a walk. Sophomore right fielder Kyle Christy and freshman center fielder Ryan Davis followed with back-to-back RBI singles, giving the Cougars a 3-1 advantage. Oakton would add two more runs on a Chantilly error.
"It was definitely a big loss for us," Christy said of graduating several standouts from the 2013 Oakton team, "but in a way it was also a big gain because we really stepped up. We knew that we lost some key players. We prepared ourselves really well for that. We knew what we needed to get done and we did it. We're here now, so obviously it's working."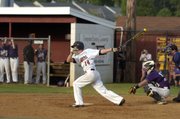 How did Davis feel being a freshman with a chance to come through in a pressure situation?
"Honestly, to me, it always feels just like any of my other at-bats," Davis said about his sixth-inning trip to the plate. "It's the same thing: pitcher pitches the ball, you hit the ball. Plus, there was a little pressure taken off --- Kyle had a great hit and got that run in. I had confidence that he would do that because he's a great hitter."
Christy and Davis each finished 2-for-3 with an RBI. Sophomore shortstop Joe Rizzo had a hit and an RBI. Lopez, senior catcher Brandon Brodsky, senior first baseman Dale Good, junior designated hitter Cooper Mitchell, and junior third baseman Connor Jones each had one hit for Oakton.
Chantilly starting pitcher Austin Margarida suffered the tough-luck loss. The senior right-hander allowed two runs and seven hits over five-plus innings. Chantilly head coach Kevin Ford pulled Margarida after he allowed a leadoff single to Lopez, Oakton's cleanup hitter, in the sixth inning with the score tied at 1. Lopez's courtesy runner, Matt Tanenbaum, came around to score with Chantilly reliever Matt Hogle on the mound.
"I thought we played well," Ford said. "[Oakton] played a great game. They played a mistake-free game. Their pitcher threw strikes and we just didn't quite hit it enough to get us in a good spot. Hats off to them. They beat us tonight. … [Margardia] gave us everything you could ask for. He kept us in the game. He's throwing against the Player of the Year in the district. He did awesome."
Sciorra went 2-for-3 for Chantilly. Right fielder Andrew Cragg finished 1-for-2 with.
Oakton (14-7) and Chantilly (13-7) will each host a game in the 6A North region tournament on Friday, May 30.