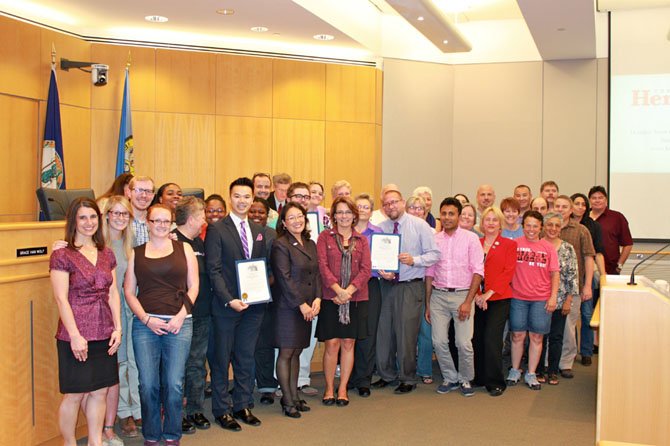 Through actions at the June 10 town council meeting, Herndon is helping minorities feel inclusive.
Both a proclamation to announce June as Lesbian Gay, Bisexual and Transgender month for Herndon and a resolution to oppose a former resolution stating the town strongly suggest English as the official language were on the agenda for the evening, eliciting emotional responses from the audience.
"I think this marks a new era, one where we're more inclusive."

— Councilmember Grace Han Wolf
"That was one of the larger gatherings we've had at a meeting," said Mayor Lisa Merkel.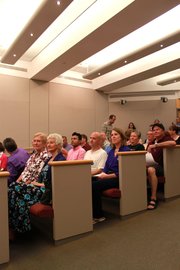 The proclamation, read by councilmember Grace Han Wolf, stated that the LGBT community has helped strengthen their community while overcoming adversity.
"For more than two centuries, our nation has struggled to transform the ideals of liberty and equality from founding promise into lasting reality," Wolf read. "LGBT Americans have worked tirelessly on the next chapter of that history - from patrons of The Stonewall Inn who sparked a movement; to service members who can finally be honest about who they love; to brave young people who come out and speak every day."
Merkel stated that the proclamation was suggested by a community member, and that she was more than happy to add it to the day's agenda. She said she was struck by how emotional the audience was.
"I think this marks a new era, one where we're more inclusive," said Councilmember Wolf.
ADVOCATES from Northern Virginia Pride, Capital Pride and Dulles Triangles came to the meeting to receive a copy of the proclamation.
"I'm so happy to see Herndon reaching out to people of all color and creed, especially those in the LGBT community," said board member of Next Generation Leadership Foundation Linh Hoang.
Northern Virginia Pride Vice President Kyle Rohen said that although his roots in Herndon only go back four years, his partner is a native of the town.
"I feel very thankful to live in this city that I call home for the past four years," he said. "The warmth and excellent character of all of you has made me feel so at home here, which is not something that everyone has the ability to say."
Another group of people the town hoped to make feel more at home are the 53 percent of residents who speak another language at home.
Resident William Campenni said the resolution would be the death of English as it was known today.
In a presentation he noted that the breaker boys who worked in the Pennsylvania coal mines in the early 20th century - one of which was Campenni's father – did not speak English after moving to America during their younger years.
"At 12, my smart dad realized that he wasn't going anywhere unless he spoke English and he spoke it well," he said.
He continued.
"You will be facilitating the continuous isolation the underclass of many of our neighbors unlike my dad who will never be encouraged to learn English and advance like he did," he said.
Resident Cesar Del Aguila said many of the immigrant elders take offense to the resolution passed in 2007.
The act did not affect the town manager's power to translate health, safety and welfare issues, but discouraged translation for other town matters.
"I want to talk to you about that fact that people fear what they don't understand," Del Aguila said.
He said 33 percent of the town's residents are Hispanic and 27 percent of town are Asian.
"I don't think this ordinance had good intentions," he said. "I think it was mean-spirited and was enacted in fear."
THE RESOLUTION to repeal the former 2007 resolution passed 4-3.
"We chose to repeal it because we have a very diverse population here," said Merkel. "We think there is more to community issues than health, safety and welfare."