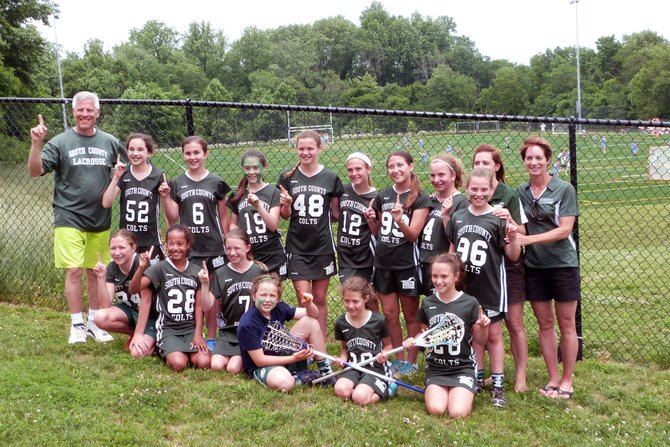 It was anyone's game on Sunday, June 8, at Great Falls Nike Park in Herndon. The South County Athletic Association and the Prince William Royals lacrosse G5/6 teams, girls in grades 5 and 6, were both undefeated coming into this championship game.
The score was tied, 10-10, with one minute, 23 seconds left. South County Colts' Jordan Judd, 12, of Fairfax Station, passed the ball to teammate Angela Biddison, 11. Biddison had not had any shots and had not even been near the ball at all during this game. "When the moment came for her, she scored at the right time," said Matt Klunder of Fairfax Station, the South County Colts' head coach. "She did what she had to do to get that in." The Colts won, 11-10.
The South County Colts G5/6A team are used to winning. But 45 seconds into the game, Prince William had scored a goal over them. That was the most tense moment for Klunder, who called a time out. "I felt that the girls were not in the mindset," he said. "I told them that I would stop the game right now and tell the other team we're not ready." Their coach's pep talk revived the girls' competitive attitude.
The game was tied, 5-5, by halftime. But with 12 minutes left, the South County Colts had not scored another goal and were down 9-5. Colts goalie, Carson Quigley, 11, of Fairfax, felt that there may not be enough time to come back from behind. Klunder called another timeout. He asked the team to get just one goal, and after that, to get another. Slowly, they caught up.
Rosemarie Foley, of Fairfax Station, is one of three coaches, along with Klunder and Anne Quigley. Her daughter scored the winning goal. She attributes the Colts' success to the team's camaraderie. "They know how to find each other on the field," she said. "They look out for each other, very much like a family."
The Colts looked out for its smallest member, Mallory Myers, 10, of Fairfax Station, who was guarding a girl who was about 5'10" tall. "She was taller than my brother, and he's 15!" said Myers, nicknamed Peanut by the team.
The Colts' G5/6 team was not the only victors that day for South County girls' lacrosse. The Colts' two G7/8 teams also won their championship games on Sunday. The G7/8A won 8-7 against Manassas, and the G7/8LB won 8-7 against Stafford. Lastly, the G3/4A team won 6-4 against Prince William.
South County girls' lacrosse started in 2008. There are four groups--K-2, 3-4, 5-6, 7-8--each group has two teams. The groups are arranged by age group and grade levels. The team is small compared to others in Northern Virginia.
Mark Sullivan, of Lorton, is the vice president of the South County Athletic Association and director of the girls' lacrosse program. He said that some clubs have five teams at each age group and have about 100 girls participating, whereas South County girls' lacrosse has only 40 players. Sullivan also has two daughters who play for the Colts. Despite the club's small size, "There are a lot of gifted athletes," he said.