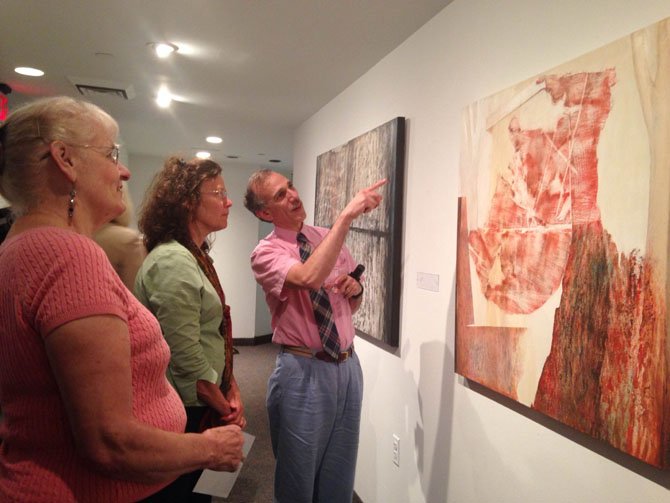 "Transformations: From One Thing to Another" opened at the Emerson and Atrium Galleries in the McLean Community Center with a reception on June 12, attracting the pensive and the liveliest of artists, students, and community members from the D.C. Metro area. The exhibit features a collection of art encompassing the themes of change, evolution, and development.
From depicted dreams to weathered hands, and naturistic scenes to a live portrayal of reading a book in one's bed, the exhibit showcased the idea that Darwinism is not exclusive to animals alone, but is present in every instance of daily life.
Gallery Juror Jack Rasmussen commented on the "interesting theme, because it's a metaphor for art itself." Art, he explained, is a transformation of subjects, materials, and ideas as it comes to fruition. Rasmussen is the Director and Curator at the American University Museum at the Katzen, and a heralded figure for art in the DC Metro Area. He awarded cash prizes to five artists from the exhibit, remarking on their unique perspective of sometimes unseen change in the occurrence of life.
With cuts of cheese perhaps accompanied by wine, visitors perused the exhibit freely. "This is an undervalued gem of a space," said Charles Sthreshley as he observed the diversity of pieces, the senior lighting designer at the Corcoran Gallery of Art in Washington, D.C.
The McLean Project of the Arts (MPA) hosts only one juried show in the summer, and a total 16 shows a year. The non-profit visual arts center was founded in 1962, and offers classes to all ages taught by professional art instructors. Funneling in the work of contemporary artists from the Mid-Atlantic region, the MPA's exhibitions are respected beyond just the McLean community.
Transformations: From One Thing to Another will be open until Aug. 2, at the Emerson and Atrium Galleries in the McLean Community Center. For more information, visit www.mpaart.org or call 703-790-1953.