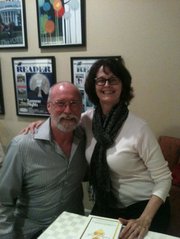 A local author is planning to put the story of her life on the silver screen. Sixty-one-year-old Mindy Mitchell of Reston is writing a screenplay based on her book, "Lube of Life: A Tribute to Sex, Love and the Pursuit of Happiness in the Boomer Age," which she released last year along with her co-author, 63-year-old Edward Land of Hampton, Va. "The content [and] energy contained in our book, 'Lube of Life,' would adapt easily to film: a comedic yet poignant tale of late-in-life love," said Mitchell. "A 'When Harry Met Sally' all grown up."

Land and Mitchell met online and began dating. "Lube of Life" chronicles the couple's online dating adventure. They hope their story will inspire other single baby boomers who are searching for mates.
Mitchell and Land will be among a group of authors at the "Great Falls Writers Group: Evening with the Authors" on April 5 at 7 p.m. at the Great Falls Library in Virginia. The pair will answer questions and sign copies of their book.
"I encourage people to give online dating a try, if they are so inclined," said Mitchell. "There are all kinds of dating and social sites on the internet. Be hopeful and hang with other people of like-minded energy. Be cautious, but be open to possibilities. Life is just too darn short."