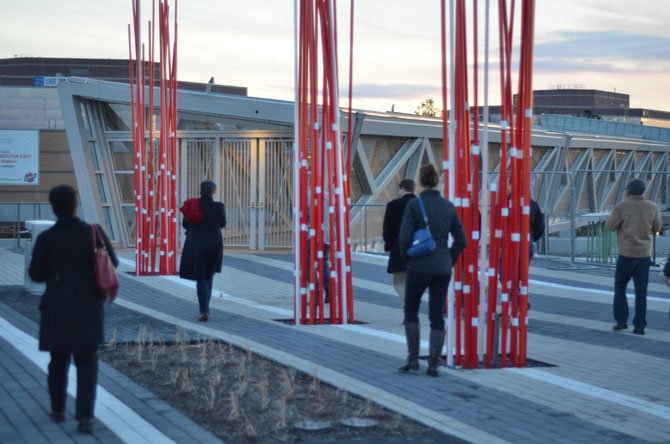 In February, Metro authorities with the Metropolitan Washington Airport Authority (MWAA) released a statement that key criteria had not been met by Dulles Transit Partners (DTP), who submitted their notice of "substantial completion" to MWAA on Feb. 7. Until those issues are addressed, it creates a delay preventing full operational testing in metro locations including Reston Station. Metro loses about $2 million each month that the Silver Line is not open.
Despite the delay, residents of Northern Virginia remain upbeat about the prospect of a new metro station for the Silver Line in Reston. "The business community wants to make sure that the rail operates safely and correctly than rather open and then make changes," said Mark S. Ingrao, president of the Greater Reston Chamber of Commerce. In February, Maggie Parker, Comstock Partners' director of communications gave a guided tour of the Reston station, the 2,300-space parking garage and public plaza serving the Wiehle Avenue Metro Station, the terminus of the Silver Line's first phase.
Attending the February guided tour were more than fifteen members of the Meetup Group Reston Young Professionals. "Reston already has a good bus system, but Tysons Corner is a disaster," said Reston resident Patrick Lichy, who was on the tour. "I am interested to as to how much traffic this metro station will take off the road." Lichy commutes from Reston to Tysons Corner where he works.
"I am very interested in the Silver Line because my house is near the Herndon Monroe stop," said Nicholas Hartigan, resident of Reston. "My wife and I joke that one day we will take the metro in one stop to the Reston Town Center." The Silver Line's terminus will be at Wiehle-Reston East for the next five years. Phase 2 of the project will have stops at Reston Parkway, Herndon Monroe, Route 28, Dulles International Airport and Ashburn.
Comstock Partners built the garage, paying 23 percent of the $90 million price tag. The company picked up a 99-year ground lease to build a 1.3 million-square-foot mixed-use development above and around the site. "When Metro begins revenue operations, there will be 3,400 parking spaces for use by Metro commuters," said Parker. "Two thousand and three hundred are owned by Fairfax County specifically for Metro parking. Approximately 1,100 are privately owned by Comstock and will be made available for Metro commuters until they are needed by the private development being built above the transit center."
The transit center resides in seven below-grade levels, with the kiss and ride, bus look and secure bicycle room located on the second level. Some of the private spaces are in a contiguous garage, eight levels below the signature office building designed by architect Helmut Jahn. The plans for that building have been under review by Fairfax County for building permit. "Reston was very adamant that we engage high quality architects for this job," said Parker.
During the tour, Parker showed the base of the planned hotel, which is atop the garage. This location has an 8,000-square-foot retail space. Although Comstock considered leasing space for a single restaurant, Parker said the company is considering two or more restaurants to give visitors increased options.
"The development that Comstock has put into this station with commercial buildings and retail, will be a model for other stations," said Mark Ingrao. "There will be locations for commercial, retail and hospitality. This continues the vision of Reston being an urban center."
For more information on the Reston station, visit restonstation.com/index.php