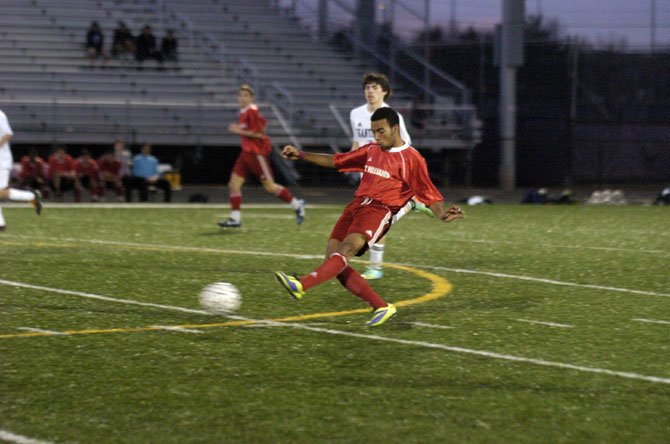 Eryk Williamson hasn't stopped thinking about the loss.
The T.C. Williams boys' soccer team came out on the wrong end of a penalty-kick shootout against Mount Vernon in the 2013 regional quarterfinals. Williamson forced overtime with a header late in the second half, but Mount Vernon would survive.
One moment that stands out to Williamson was watching his brother, Terell, hang his head in disappointment after failing to convert his PK, ending the match.
The Majors went on to win the AAA state championship. The Titans went home.
"To be honest, every single day ever since that game I've been thinking about it," Williamson said. "We just want to get past the second round [of regionals]. It's the second year in a row we haven't gotten past the second round, so I think that's just motivation to get past the second round this year."
Terell Williamson has since graduated, and Eryk, a junior midfielder, is one of the leaders of the 2014 T.C. Williams boys' soccer team. The Titans competed in their first scrimmage of the season on March 11 and beat Chantilly 4-0.
"Going into this game, I was a little shaky about how things were going to be," Williamson said. "After this, it looks like we're going to have a good team."
Williamson is joined in the midfield by junior and fellow three-year varsity athlete Ramsey Benzina.
"That's a nice center-midfield group to have there, because they're bringing that experience," TC head coach Martin Nickley said. "… Those two players are very focused and they are both going to be tremendous leaders."
"I love the desire of the players. Hey, we want to keep it going. We're really proud that we're getting to these regionals, but we want to keep it going."

— T.C. Williams boys' soccer coach Martin Nickley
Defensively, senior Hector Alvarado will likely be the Titans' sweeper. Junior goalkeeper Edgar Martinez enters his second season as the Titans' starter. Senior Andres Avila-Riano will provide depth at keeper.
Nickley said outside backs Emir Crnovic and Patrick Kelly, both juniors, could also be key players for the Titans.
Offensively, Nickley said TC will "be looking to get goals from a variety of different sources." Two of those candidates are senior forward Willie Miezan and junior midfielder Abdurazak Abdullah.
T.C. Williams will open its season at home against Edison at 4:30 p.m. on Tuesday, March 18. Along with advancing past the regional quarterfinals, Williamson said the Titans have their sights set on winning the Conference 7 championship. T.C. Williams won the Patriot District title in 2012, Williamson's freshman year.
Nickley said he appreciates the Titans' desire for success.
"We have lost in the second round [of regionals] the last couple years," Nickley said. "First off, what a tribute to the guys to even get to that position. And then last year, [we lose] in penalty kicks to the team that also won the states, so there's a couple of ways of looking at that.
"… I love the desire of the players. Hey, we want to keep it going. We're really proud that we're getting to these regionals, but we want to keep it going."