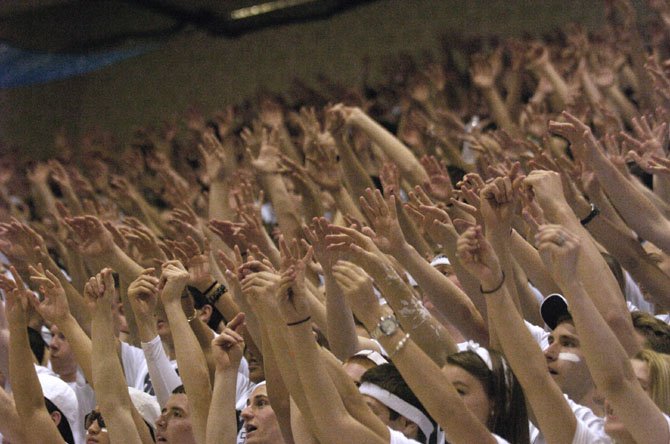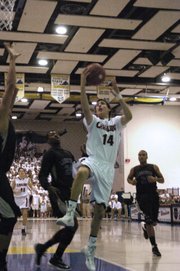 The Woodson boys' basketball team experienced much in the way of adversity during the 2013-14 season.
The Cavaliers overcame the graduation of three of their top players from the 2012-13 campaign. A busted pipe inside Red Jenkins Gym forced Woodson to practice and play away from its home. And during the region tournament, the Cavaliers dealt with the death of two classmates in the same week.
None of this derailed Woodson during its quest for a second consecutive region title and another trip to the state semifinals. But on March 8, with Woodson one win shy of reaching the state championship game, a simple off-shooting afternoon ended the Cavaliers' season.
Woodson shot 28 percent from the floor and produced a season-low point total during a 40-37 loss to Landstown in the 6A state semifinals at Robinson Secondary School. Sophomore guard Matt Ayoub was the only Cavalier to score in double figures, finishing with 14 points. Junior point guard Eric Bowles, the 6A North region Player of the Year, finished with one point, missing all five of his field-goal attempts. The Cavaliers' previous season-low point total had been 47.
Down by three, Woodson's final possession began with 31.4 seconds remaining. The Cavaliers passed the ball around looking unsure of what to do. Andy Stynchula ended up with the ball at the top of the arc and the senior forward shot a contested 3-pointer, which was tipped by a Landstown defender.
AFTER THE GAME, Woodson coach Doug Craig said the Cavaliers called a play expecting to face a zone defense. Instead, Landstown came out in a man defense. Woodson tried to change the play, but Landstown defended it, and the Cavaliers were unable to get a good shot.
"Yeah, I'm disappointed, but no one else can say, yeah, we won back-to-back regional championships and got to the state semifinals two years in a row. For everything that we've been through this year --- everyone doubting us, not playing in our gym and everything --- [I think we've been] successful this year."

--- Woodson junior Eric Bowles
"They switched to man and we had a play, we just didn't get into it fast enough," Craig said. "They switched out on it, took the shooter away. They kind of kept us off balance all night. We never really got into a rhythm offensively at any point in this game."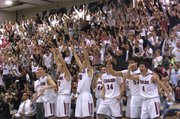 Woodson finished 11-for-40 from the floor.
"I thought our defense was good, I thought we battled them on the glass," Craig said. "Sometimes you've just got to put the ball in the basket."
Ayoub, a sophomore transfer from Paul VI, knocked down four 3-pointers, including one that tied the score at 37 with 1:27 remaining.
"It's been a great season," Ayoub said. "Coming in as a sophomore, my first year ever playing varsity, to be on this type of team was great. It's fun. We bond very well together. Through the course of the season, our chemistry got so much better than what it was at the beginning."
Senior forward Jimmy McLaughlin finished with seven points for Woodson. Stynchula had six points and senior guard Mike Szabo added five.
BOWLES had one point, eight rebounds and five assists.
Woodson finished the season with a 21-9 record, with six of its losses coming by six points or fewer, and four coming by three points or less. The Cavaliers lost to Lake Braddock three times during the season by a combined eight points, including a one-point defeat in the Conference 7 championship game, but came back to beat the Bruins by 10 in the 6A North region championship game on Feb. 21.
Woodson's projected returning athletes for the 2014-15 season include: Bowles, Ayoub, junior guard Trey Johnson and junior forward Tyler Wilson.
"Yeah, I'm disappointed, but no one else can say, yeah, we won back-to-back regional championships and got to the state semifinals two years in a row," Bowles said. "For everything that we've been through this year --- everyone doubting us, not playing in our gym and everything --- [I think we've been] successful this year."