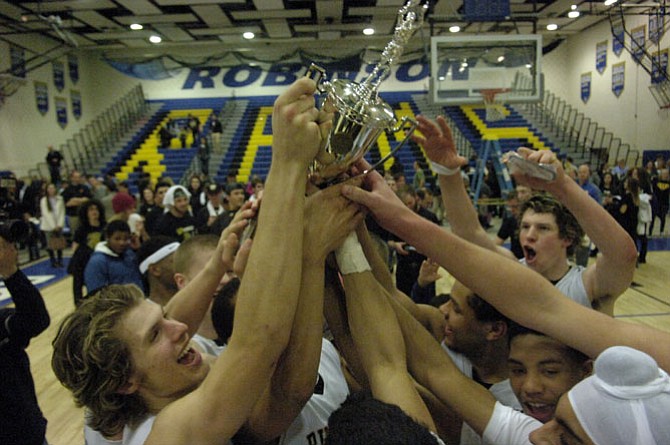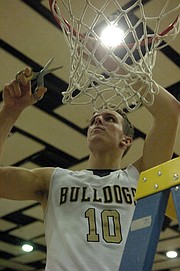 "We were mainly trying to take [Eric] Bowles and [Matt] Ayoub out of the game because they score most of the points for their team. … That's what we did a good job of."
— Westfield junior Blake Francis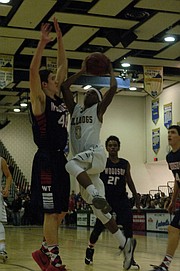 Woodson point guard Eric Bowles, the 6A North region Player of the Year, entered Saturday's championship game averaging 30.7 points in three region tournament contests.
Sharpshooting guard Matt Ayoub, a second-team all-region selection, was fresh off a 29-point effort against Battlefield in the semifinals, during which he drained five 3-pointers.
Along with talent, many members of the Woodson boys' basketball team held championship experience, as the Cavaliers had won the previous two "big school" region titles.
While Woodson had plenty of reasons to be confident, the Westfield Bulldogs used lock-down defensive to show there's a new sheriff in town.
Westfield held Woodson to its lowest offensive output of the season and the Bulldogs defeated the Cavaliers 52-43 to win the 6A North region championship on March 7 at Robinson Secondary School.
Westfield limited Bowles to 17 points, held Ayoub scoreless and won its first region title since 2012.
"It was great defense. We prepared a lot for this game," Westfield point guard Blake Francis said. "… We were mainly trying to take Bowles and Ayoub out of the game because they score most of the points for their team. … That's what we did a good job of."
It was the first time all season Woodson had been held under 50 points.
"Our goal was to try to limit [the number of] times Bowles gets to the rack," Westfield head coach Doug Ewell said. "That was our No. 1 goal. Even though we know he shoots the crap out of it, but he finishes a lot better. And when he gets to the rack, he's making everybody else so much better.
"… We just tried to make sure we stick to [Ayoub] like glue. … We knew that once he catches fire, he can shoot it from halfcourt and it's gonna go, so our goal was to try to make sure that he had to put the ball on the floor. I think we did a decent job."
After a jumper by Woodson's Jackson Boehman tied the score at 35 with 7:09 remaining, Westfield responded with a 10-0 to gain some separation. Woodson cut the lead to five, but the Bulldogs responded with a 7-1 run to clinch the victory.
"You've got to give [Westfield] all the credit," Woodson head coach Doug Craig said. "I thought they played great defense tonight. I thought they really just clamped down on us. I think they decided they weren't going to let Matt beat them and we didn't get enough out of everybody else."
While the Bulldogs played well defensively, Francis and junior forward Tyler Scanlon, a pair of first-team all-region selections, led the Westfield offense, scoring 18 points apiece.
Scanlon, a receiver on the Westfield football team, said he was motivated by the Bulldogs' loss to Centreville in the region football championship game.
"I failed the last time I was here in this situation in football," Scanlon said. "It was a disgrace, honestly."
Jacob Williams scored seven points for Westfield.
The victory improved Westfield's record to 26-1 and extended its win streak to 24 games. The Bulldogs, who won the Conference 5 championship, will face Landstown in the state semifinals at 7:15 p.m. on Friday, March 13 at VCU's Siegel Center.
"It's good for our school, it's good for our program, it just feels good," Francis said about winning the region championship. "We've got one more to go."