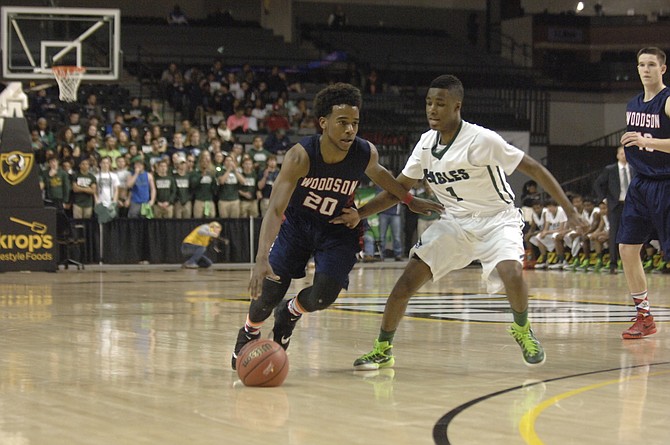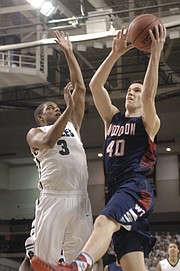 RICHMOND --- The Woodson boys' basketball team trailed by 14 points in the first half of Friday's state semifinal matchup with Colonial Forge and was out-rebounded by a 2-to-1 ratio.
The Cavaliers, however, have never been ones to shrink in the face of adversity.
Woodson battled back, generating multiple fourth-quarter opportunities to tie or take the lead against the defending state champion. But despite their valiant effort, the Cavaliers couldn't get over the hump.
Woodson pulled to within one with 2:30 remaining, but Colonial Forge closed the contest on an 8-1 run and secured a return trip to the state final with a 59-51 victory at VCU's Siegel Center.
Colonial Forge will face 6A North region champion Westfield in the state championship game at 7:15 p.m. today.
Jackson Boehman twice pulled Woodson within two, burying a 3-pointer and dropping in a putback early in the fourth quarter.
A Tyler Wilson bucket cut the Woodson deficit to 47-45. With 2:30 left in the fourth quarter, Eric Bowles converted a three-point play, bringing the Cavaliers within one at 51-50.
With 1:06 remaining, Woodson had possession, trailing 53-51.
Each time, Woodson failed to capitalize.
"If you get open shots, you get free throws, you've got to put them down," Woodson head coach Doug Craig said. "… I thought we got open looks, we got to the free-throw line with the guys we wanted there. [A] couple rolled out on us, [a] couple [were] halfway down and popped out. That's basketball."
Woodson trailed 23-9 early in the second quarter. The Cavaliers cut the deficit to eight at halftime, 30-22, and trailed 43-38 entering the fourth quarter.
The Cavaliers had a chance to win despite being out-rebounded 45-22.
"We're smaller than everybody we play against, it seems like," Craig said. "We're kind of a guard-oriented team. That's kind of who we've been the last couple years. … What are you going to do? You're outsized by 2 or 3 inches at every position, you're going to give up some rebounds. But with that being said, we put ourselves in position to have a chance to win. Give [the Eagles] credit: they made their free throws down the stretch, they made a couple shots, we missed a couple, that's the difference."

Bowles, the 6A North region Player of the Year, led Woodson with 20 points, but shot just 6-of-18. Junior guard Matt Ayoub, a second-team all-region selection, finished with six points on 2-of-12 shooting, including 2-of-9 from 3-point range.
"I thought my teammates got me open to get the shots that I needed," Ayoub said. "I was open, I just couldn't hit them."
Tyler Wilson scored 17 points for Woodson, shooting 6-of-8 from the field. The senior forward scored 10 of the Cavaliers' first 13 points.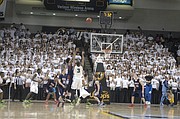 Senior guard Marco Haskins led Colonial Forge with 20 points and 15 rebounds. Junior guard Cario Eaton scored 19 points for the Eagles, including 17 in the second half. He went 3-of-3 from 3-point range and 10-of-12 from the free-throw line.
Woodson lost in the state semifinals for a third consecutive season. Each year, the Cavaliers responded to a loss in the district/conference tournament by making a run to the region championship game.
"This one hurts the most," Bowles said, "because it was our last run."
Woodson won the 2013 AAA Northern Region title, overcoming a 19-point fourth-quarter deficit to beat Wakefield in overtime. The Cavaliers beat Battlefield in the state quarterfinals before losing to Henrico.
The Cavaliers won the 2014 6A North region championship, beating Lake Braddock in the final after losing their three previous matchups with the Bruins during the season. With a new playoff format, Woodson advanced directly to the state semifinals, where the Cavaliers lost to Landstown.
This year, Woodson lost to Westfield in the region final before falling to Colonial Forge.
"I'm proud to have been a part of all this," said Wilson, a three-year varsity contributor. "… I'm glad to have done it with the guys that we did it with."
Woodson finished the season with a 19-10 record, including a 91-86 triple-overtime loss to South County in the Conference 7 championship game.
"I think for us, even though we didn't win a state title last year, we've been a team that's had a target," Craig said. "I think these guys have really battled through that."
The Cavaliers played Friday's game in front of yet another large student crowd. Ten charter buses transported Woodson students to Richmond, according to the Woodson, Craig said.
"Our community, everybody knows, has been through some difficult things the last few years and I think boys' basketball is one of the things that's kind of uplifted not only the school and the kids, [but] the whole community," Craig said. "Our student support, our fan support I think is second to none. I don't know if anyone else down here will bring 10 busloads of kids."