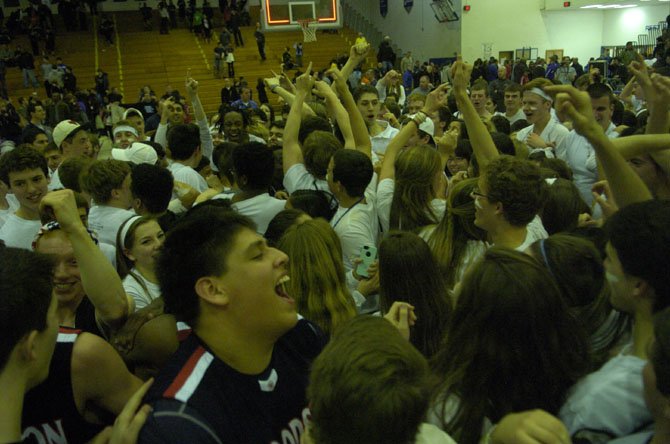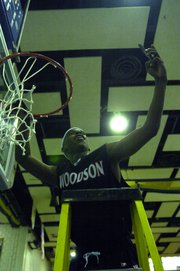 Woodson senior Jimmy McLaughlin, a first-year varsity starter, grabbed a key rebound and knocked down a much-needed free throw during the final moments of the Cavaliers' region semifinal win over Herndon on Feb. 28. After the game, with several teammates overcome by emotion due to a week of tragedy at W.T. Woodson High School, senior guard Michael Szabo, a role player turned clutch shooter, emerged from the locker room and handled postgame interviews with the media.
The following evening, Woodson held a five-point lead over Lake Braddock entering the fourth quarter of the 6A North region championship game. Junior forward Tyler Wilson buried a 3-pointer early in the period that helped the Cavaliers gain scoreboard separation. Junior forward Will Cogan and senior forward Sean Baude each scored a fourth-quarter bucket. Later, Szabo and senior forward Andy Stynchula, a former role player turned starter, were named to the all-tournament team.
THE WOODSON BOYS' BASKETBALL team captured its second consecutive region championship on March 1, beating Lake Braddock 66-56 at Robinson Secondary School. One year after overcoming a 19-point fourth-quarter deficit to beat Wakefield in the Northern Region final, the Cavaliers played from ahead against the Bruins, opening a 17-point second-quarter lead.
While the Cavaliers had reached the region pinnacle before, the path they traveled to the 2014 title was different. This team played more of an underdog role as they overcame adverse conditions during the season.
"It's a different group of kids," Woodson head coach Doug Craig said Saturday night. "… A lot of them didn't get to experience it last year or really be a big part of it --- they were on the team but maybe didn't get a chance to play out on the floor. Tonight, they got a chance to be out there on the floor and do a great job."
The 2012-13 Woodson team was loaded with sharpshooters. Then-sophomore point guard Eric Bowles distributed the ball to Tommy Stepka, Peter Murray, Alex Boock and others, who knocked down clutch 3-pointer after clutch 3-pointer. The Cavaliers finished atop the Patriot District regular-season standings, reached the AAA state semifinals and ended the season with a 25-5 record.
"[I'm] really happy for our kids, really happy for our school community. This was a very difficult week. The fact that our Cavalry was out in such great numbers says a lot about the school community. To give them an hour-and-a-half, hour-and-45-minute distraction tonight, something to feel good about, that's what sports is supposed to be about at the high school level."

--- Woodson boys' basketball coach Doug Craig
With Stepka, Murray and Boock having graduated, role players from the previous season and transfers stepped into primary roles this year. While there were bumps in the road, players like McLaughlin, Stynchula and Szabo made plays in the postseason when the Cavaliers needed them most.
While a lot changed for Woodson from one season to the next, Bowles' high level of production remained constant. After a stellar sophomore season, Bowles this year was named 6A North region Player of the Year and MVP of the region tournament.
"It feels great just to [win a region title] two years in a row," Bowles said Saturday night. "A lot of people doubted us this year because we lost everyone, but we just worked hard to get where we needed to be. I feel like this year people were doubting us more than last year because once we started playing last year, everyone saw how good we were. This year, people were like, they're not as good as they were last year."
WOODSON FACED ADVERSITY along the way. The Cavaliers lost to Lake Braddock three times by a combined eight points. A busted pipe led to flooding in Woodson's gym in January, forcing the Cavaliers to play some home games on the road and practice away from their comfort zone. And last week, the Cavaliers dealt with the deaths of two of their Woodson classmates.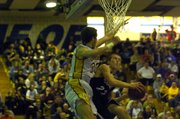 "[I'm] really happy for our kids, really happy for our school community," Craig said Saturday night. "This was a very difficult week. The fact that our Cavalry (student section) was out in such great numbers says a lot about the school community. To give them an hour-and-a-half, hour-and-45-minute distraction tonight, something to feel good about, that's what sports is supposed to be about at the high school level."
"I think it's a testament to the community and the team," Stynchula said Saturday, "and just how strong we are when we need to be and we can really come together."
A pair of Stynchula free throws gave Woodson its largest lead of the region championship game, 38-21 with 2:32 remaining in the second quarter. Lake Braddock cut the Woodson lead to nine at halftime and five entering the fourth quarter, but the Cavaliers found a way to hold off the Bruins for the first time in four meetings this season.
Bowles led Woodson with 17 points. Stynchula scored 13 points, sophomore Matt Ayoub finished with 10 and Wilson added eight.
Will Gregorits led Lake Braddock with 17 points. A.J. Alexander finished with 13 points and John Nice had 12.
While the Cavalry supported Woodson passionately during the championship game, students nearly cost the Cavaliers a chance to even reach the region final.
During the semifinals against Herndon the previous night, Woodson students stormed the court prematurely, resulting in a technical foul against the Cavaliers. Luckily for Woodson, Herndon missed a crucial foul shot with less than a second remaining and the Cavaliers won 63-62 in overtime.
"That was a little stressful out there," Szabo said Friday. "It was a little bit overwhelming thinking that [Cavalier fans] could have cost us the game when they've been there for us all year."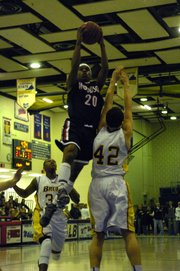 Woodson led 62-59 in overtime when Herndon's Brandon Alston was fouled while attempting a 3-point shot with 1.3 seconds remaining, resulting in three free-throw attempts. Alston made the first two but missed the third. McLaughlin grabbed the rebound and was fouled with 0.4 seconds on the clock and Woodson leading 62-61. With the Cavaliers in the double bonus, the game should have been all but over with McLaughlin shooting two free throws at the other end and Herndon needing a miracle with less than a second remaining. Instead, Woodson fans rushed the court, thinking time had expired.
Officials gathered and discussed how to handle the situation. After a few moments, officials issued Woodson a technical foul, which would give Herndon two free-throw attempts.
McLaughlin went to the line first and made one of two, extending Woodson's lead to 63-61. Herndon then sent Dorian Johnson to the line for the two technical foul shots. Johnson made the first attempt but missed the second, leaving the Hornets trailing 63-62 with 0.4 seconds on the clock. Herndon had the final possession, but the Hornets' inbound pass was swatted away and Woodson secured the win.
"You can't really plan for something like that and it's a shame," Craig said Friday. "Our kids were just excited. I'll take our Cavalry anytime. They've bailed us out a couple times, we figure we can bail them out."
Bowles led Woodson with 14 points. Szabo scored a career-high 13 points and went 4 of 6 from 3-point range. Tre Johnson finished with 11 points. Stynchula scored nine points and grabbed 13 rebounds, McLaughlin finished with four points and 13 rebounds, and Wilson totaled eight points and seven rebounds.
"Last year I didn't really contribute that much but we still won the region championship," Szabo said Saturday. "Coming back this year and being a big part of it, it felt really great."
Woodson will face Landstown (Virginia Beach), the 6A South runner-up, in the state semifinals at 3:30 p.m. on Saturday, March 8 at Robinson Secondary School. The winner will advance to the state championship game, which is scheduled for 8:30 p.m. on Friday, March 14 at VCU's Siegel Center.