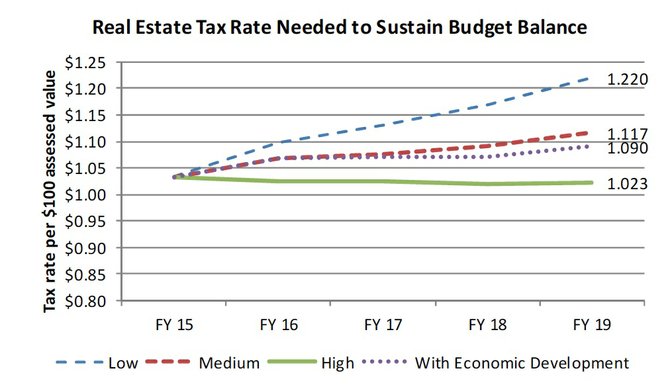 Although Alexandria City Manager Rashad Young issued a proposed budget that keeps the current tax rate, members of the City Council voted this week to advertise a tax rate that's half a penny higher. Councilman John Chapman offered the motion to advertise a tax rate higher than the current tax rate, which could provide an additional $1.7 million if council members decide to vote for the higher rate.
"I don't want to put myself in a corner," said Chapman. "There are going to be some conversations we did not think about beforehand. And I'm fearful when we have those conversations we are going to be looking at ourselves like maybe we should have left that wiggle room."
Councilman Justin Wilson offered an unsuccessful motion to advertise the current tax rate, which is $1.038 for every $100 of assessed value. He and Councilman Paul Smedberg ended up voting against Chapman's motion, which increased the advertised tax rate to $1.043 for every $100 of assessed value. They urged their colleagues to try to craft a budget within the revenues generated by the manager's proposal rather than potentially raising an additional $1.7 million.
"With no tax increase, just the assessment alone, we'll be paying $750 more a year" said Smedberg, who owns a $1.6 million townhouse in Old Town. "We have to keep in mind that there are lot of people in this community can't do that."
LAST YEAR, council members adopted a historic tax increase, adding four cents to the tax rate. That was the largest tax increase in living memory. Now council members say they hope to keep the tax rate the same, although now that they've advertised the higher rate they will be able to increase taxes in May when they approve a final budget if that's the course they choose to take. But council members reiterated that just because they are advertising a higher rate doesn't mean that's where they'll end up.
"When we advertise the rate, people think that's the rate," said Councilman Tim Lovain. "So the concept of advertising the rate gets everybody confused."
During a Monday public hearing, dozens of citizens testified against budget cuts in Young's proposal. Some of the ones that have caused the most anxiety are the elimination of the senior taxi program as well as a reducing in tax relief to some seniors. Other cuts that have caused some pushback include reductions in the budget for Parks and Recreation and the Police Department.
"I did not run to raise propel taxes," said Councilwoman Allison Silberberg. "But we have some growing needs."