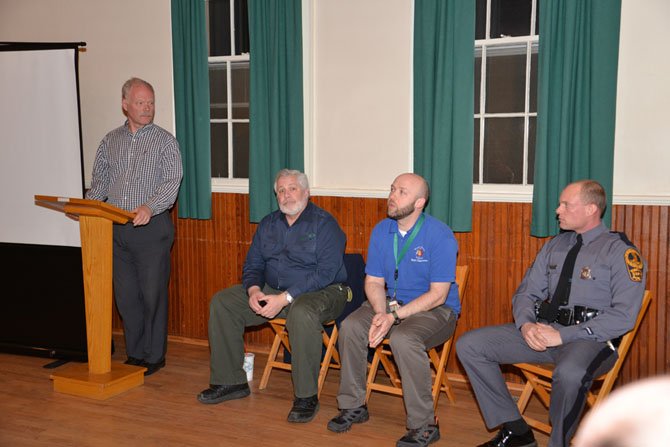 Braving frigid gusts of wind that left some of them without power at home, residents came out in force for the Great Falls Citizens Association (GFCA) Town Hall Meeting on the night of Wednesday, March 12. The agenda consisted of only two topics – "Deer Management" and the future of "Trails, Paths and Sidewalks" in the village, but there was enough material and discussion to fill the three hours allotted.
Bill Canis, vice president of the GFCA as well as co-chair of its Environment, Parks and Trails Committee, was the evening's facilitator, introducing a trio of expert speakers during the portion of the program related to the increasing deer population and their impact on the environment, personal health and vehicular safety. Before yielding the floor, Canis informed the audience that the Deer Management topic would be addressed in two parts, starting with this meeting, and continuing at the association's next meeting on April 8. He also urged them to participate by taking an online survey on the topic at www.surveymonkey.com/s/FOREST2TH, or by a link on their website at www/GFCA.org.
Jim McGlone, an Urban Forest Conservationist with the Virginia Department of Forestry, was the first to take the podium, and gave a comprehensive overview of the structure of a forest, and what it should look like if it is healthy, in balance, and sustainable for the future. Citing a long term study of the Mason Neck State Park in Lorton, which has similar characteristics to the local forests, McGlone demonstrated how the deer population explosion, due to the lack of what he termed an "apex predator" to naturally control their numbers, was gradually destroying the lower layers of the forests. "And my backyard," commented an attendee to some laughs and a lot of head-nodding in agreement. By devouring the lower levels of the forest, "that starts to affect other forest consumers like songbirds and small mammals," said McGlone. "Then there are fewer birds to eat the insects and you start to see more insect-borne disease." He also spoke to issues of storm water management and air quality when the young trees and shrubs and grasses of the lower forest are wiped out. Possibly the worst effect of all, "they are eating the future forest," he added. "There is nothing left to continue the growth of the forest."
NEXT UP was Josh Smith, an environmental health specialist and biologist with Fairfax County Dept. of Health, who took the audience through the lifecycle of a tick, specifically the "black-legged" or "deer tick," the culprit that can carry Lyme disease with its bite. "Deer are the hosts, but not the carriers," explained Smith. "This is the time of year when the ticks are hatching, and many people get infected at the earliest stage in the tick's lifecycle because it is so small and hard to spot. Most cases of Lyme disease are reported between April and July, "but remember," he warned, "any nice day can bring out ticks. We've seen them active between Christmas and New Year's Day, just because the temperatures spiked a bit higher than normal for that time of year." In 2013, 202 cases of Lyme disease were reported in Fairfax County; 20 cases of Spotted Fever and 10 of Anaplasmosis were also reported last year.
Smith provided a number of practical approaches to prevent becoming a victim of Lyme disease, "some of which you won't like, like wearing long sleeves and long pants and tucking those pants into boots. Not the most comfortable summer outfit!" he joked. "But at least always take a shower when you come indoors, and do a complete tick check. Get a friend, spouse, whomever to help check those spots it's hard for you to see. If you find one, or more than one, remove it and for your health's sake, have it identified." Fairfax County Health Department at 10777 Main Street in Fairfax will identify ticks at no charge. A video, showing close up the most effective way to remove a tick –"always use tweezers and prop the body of the tick up before you pull up and away," – was shown to some groans from the viewers.
Several audience members asked about chemical treatment against ticks. "Treatments that contain DEET are the only ones that repel ticks," responded Smith. "But read those labels and follow them carefully," he cautioned. "And be aware, many broad-spectrum insecticides will kill all other insects, not just the ticks, and could effect other small mammals, as well." Smith also recommended clothing treated with Permethrin.
The final guest speaker on the topic of the deer and human relationship was State Trooper Hendrick, who showed a video that demonstrated how deer see cars. "There's a reason for the saying 'a deer in the headlights look.' Deer are actually blinded by headlights because of their exceptional night vision," said Trooper Hendrick. "Their pupils are that large. And they see a car coming straight at them as a stationary object." Hendrick stated that in 2013, of the 11,685 reportable car crashes in Fairfax County, only 83 were deer crashes. "But that number does not reflect incidents that were not classified as 'reportable' or that were not reported to law enforcement in the first place," he noted. If a deer is killed during a collision, or if someone notices a dead deer, Hendrick advised that they call the Virginia Department of Transportation, the authority charged with the removal of dead deer on the roadways.
THE SECOND PORTION of the evening's program was a presentation by Robert Mobley, a resident of Great Falls since 1973, and an architect who has been practicing in the village since 1979. Mobley has spent countless time and energy researching and reviewing the current state of paths, sidewalks and trails and came before the assembly with suggestions and recommendations to make Great Falls more walkable and connected. His vision includes soft trails that would connect neighborhoods to each other and to area parks, with hard surface trails connecting to the village center and beyond to the new paths being constructed along Rte. 7 that would then connect to Reston, the Washington and Old Dominion Trail and to the new Metro Station at Wiehle Avenue. For the hard surface trails, Mobley says "porous asphalt would be the best." Despite the fact that it is more expensive at installation, it requires less maintenance and re-surfacing, and can be partly made from recycled materials. "Reston says they haven't re-surfaced in 25 years, whereas stone dust roads really need to be redone twice a year in order to be properly maintained."
More on Mobley's approach to connecting Great Falls via trails, paths and sidewalks, and more detail from the speakers' presentations is available on the GFCA website at www.gfca.org. The Great Falls Citizens Association fiscal year is coming to a close and they are offering discounted memberships for the rest of this year, and reminding residents they purchase membership online at their website.