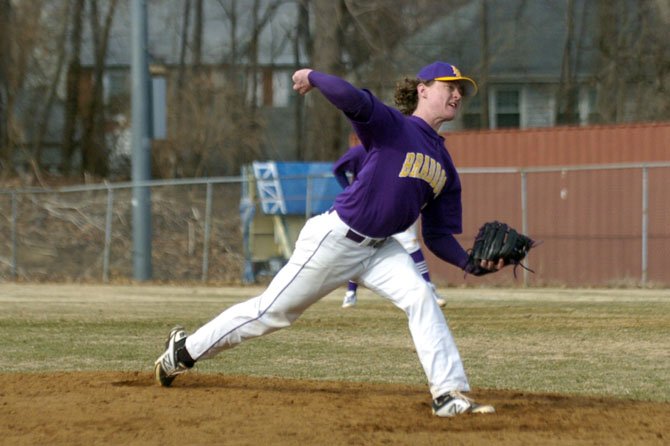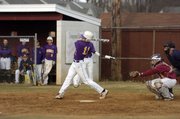 The Lake Braddock baseball team entered the 2013 season in a cloud of uncertainty, with several key athletes battling injuries. The Bruins managed to right the ship, however, winning the Northern Region championship and reaching the state semifinals.
One year later, the Bruins again face a sense of uncertainty. This time, graduation, not injury, is the culprit.
Lake Braddock, a perennial Northern Virginia power two years removed from winning its first state championship, enters the 2014 campaign having graduated five Division I players from last year's team. Gone are pitcher Thomas Rogers (North Carolina), outfielder Alex Gransback (VCU), catcher Garett Driscoll (George Mason), and infielders Alex Lewis (Longwood) and Mitch Spille (Radford). Pitcher Nick McIntyre went to Division III Mary Washington.
The Bruins return a solid group of talented athletes, but the team has more holes to fill than usual.
"We've got a talented core back, it's just at the level we're used to playing, it's going to take nine guys and we're trying to figure out who our best nine are right now and where they fit in and where they're going to play," head coach Jody Rutherford said. "In the past three or four years, we needed to find one, two, three pieces. This year, we're looking at five pieces that we need to find."
SENIOR SHORTSTOP Jack Owens, who will play collegiately at East Carolina, is Lake Braddock's top returning player. Owens is working his way back from an injury to his right wrist, but said he should be fine.
"What we lost were good, all-around baseball players --- hitters and pitchers," Owens said. "Trying to fill their positions is something we can't do, but we can find other ways to win. … We'll always find ways to win. If it's not hitting home runs and hitting doubles, it will be bunting and dribbling balls between infielders."
"In the past three or four years, we needed to find one, two, three pieces. This year, we're looking at five pieces that we need to find."

--- Lake Braddock baseball coach Jody Rutherford
Junior infielders Nick Neville and Evan Eschenburg, and seniors Ryan Henderson (outfield) and Joe Darcy (pitcher/outfield) will provide Lake Braddock with strength at the top and in the middle of the batting order.
"Our top of the order is pretty good," Rutherford said. "It's just as good as it has been the past couple years. [It's all about] finding who is going to produce at the bottom of the order. That's what separates your offense from other [teams]."
Rutherford said senior Ian Reilly and junior Matt Supko have a chance to be contributors in the Bruin lineup.
On the mound, Darcy, a 6-foot-2, 200-pound right-hander, transitions into the role of staff ace. Darcy gained experience as a starting pitcher last season and has "established himself as the go-to guy right now," Rutherford said.
"Offensively, we're just as good as any other year," Darcy said. "The only area that we lack, really, is pitching, which, we're all trying to step up and be better pitchers and help our team win."
Rutherford said injuries will keep Supko (elbow/Tommy John surgery) and junior Colby Wallmow (torn labrum) off the mound this season. In need of depth, Neville will pitch for the first time in several years.
"He's never really pitched," Rutherford said. "He pitched a little bit when he was younger, but he's stepping up, he's been showing some good leadership."
Neville, a 6-foot-1, 185-pound right-hander, throws a fastball, curve ball and change-up.
"I came up to [Rutherford] this winter and told him that I wanted to pitch," Neville said. "It was just something that I wanted to do to help the team out."
Kevin Haswell, a 6-foot-2, 200-pound junior right-hander, will also pitch for Lake Braddock.
LAKE BRADDOCK will open the season at home against Flint Hill at 6:30 p.m. on Thursday, March 20. The Bruins will host Oakton in a rematch of last season's Northern Region championship game at 1 p.m. on Saturday, March 22.
"We'll find a way to get it done; we'll have to do a better job of coaching," Rutherford said. "It's easy when you have good players to sit back and take all the credit as a coach. I guess I've got to really actually do some work this year."