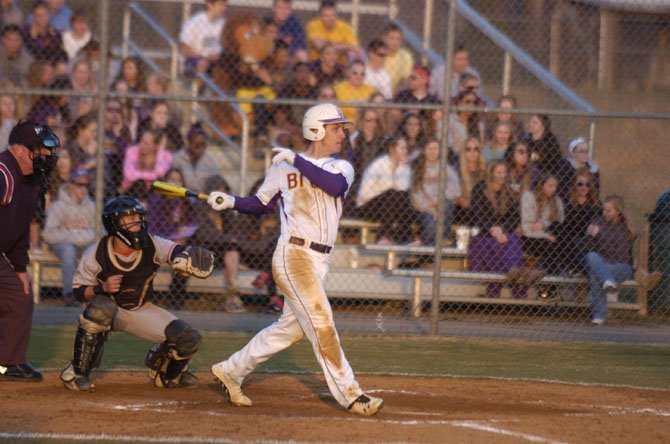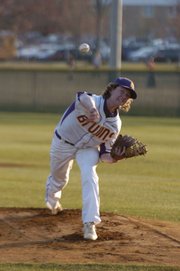 Burke — The Lake Braddock baseball team has labored through a slew of injuries early in the season, with several key athletes either missing time or limited in their contributions.
The Bruins lost two of their first five games after entering the season ranked No. 12 nationally by MaxPreps.com. Last season, when Lake Braddock won the program's first state championship, the Bruins started 9-0 and did not suffer their second loss until game No. 19.
Now, nearly one month into the season, Lake Braddock is starting to get some players healthy. Left-handed pitcher Thomas Rogers, who threw a four-hit shutout in last year's state championship game, is cleared to pitch on a limited basis after having Tommy John surgery on Aug. 27. Sophomore pitcher Matt Supko returned from a back injury with hopes of becoming a key contributor on the mound.
As others progress, Lake Braddock figures to improve. But even though the Bruins aren't at full strength, they were plenty good enough on April 5 to avenge last season's loss to rival West Springfield in the Northern Region championship game.
LAKE BRADDOCK, ranked No. 2 in the latest Northern Region coaches poll, defeated West Springfield 11-1 in five innings at Lake Braddock Secondary School. After beating the Spartans twice during the 2012 regular season and again in the Patriot District championship game,
the Bruins lost to West Springfield in the region final before running the table at states. On Friday, junior pitcher Joe Darcy limited the Spartans to one unearned run in four innings while earning the victory. The right-hander allowed two hits while walking one and striking out three.
"I wouldn't say [we're] hitting our stride. We've still got our best ball in front of us."

--- Lake Braddock baseball coach Jody Rutherford
"He did good," Lake Braddock head coach Jody Rutherford said. "He's one of the guys that's getting healthy. I really wasn't expecting him to go four. He kept his pitch count down which ... got him deeper into the game."
At the plate, junior shortstop Jack Owens had a pair of doubles and an RBI. Senior third baseman Alex Lewis had a hit and three RBIs. Rogers finished with a double and an RBI, Supko had a two-run single and Darcy had an RBI single.
"It's been tough, but I think it's made us a better team," Owens said about the Bruins dealing with injuries. "The chemistry in the dugout, we've all gotten strong. Kids who normally wouldn't play [when others are] healthy … have played and they got a taste for what it's like …"
While things are looking up for Lake Braddock, Rutherford said the team has room for improvement, including finding someone other than senior Nick McIntyre to step up from a pitching standpoint.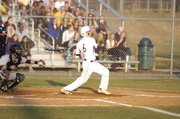 "I wouldn't say [we're] hitting our stride," Rutherford said. "We've still got our best ball in front of us. I thought we played a pretty good game against South County [on April 3]. I was pleased that we came out and performed good today."
West Springfield, on the other hand, is struggling. The Spartans got the leadoff man on base in the first inning when shortstop Taylor Boyd led off with a single, but they came up empty. In the bottom half of the inning, a two-out Spartan error opened the door for three Lake Braddock runs.
Starting pitcher Blake Bird allowed eight runs --- three earned --- and six hits over four innings. The left-hander hit four batters and struck out two.
"We've got a lot of growing up to do," West Springfield head coach Jason Olms said. "We're inexperienced, we're young, but those are just excuses. We've got to get better. We're nowhere near we need to be right now. …
"I think Blake did a pretty good job. We're going to need him to go longer, but I think he did a pretty good job --- we didn't help him out at all. He kept guys off balance and threw strikes for the most part, just ended up getting a little tired in the fourth."
WEST SPRINGFIELD lost to South County 5-1 on Tuesday, dropping its record to 3-7 overall and 0-4 in the Patriot District. The Spartans have dropped five straight and were outscored 29-3 by T.C. Williams, Lake Braddock and South County.
West Springfield will host Lee at 6:30 p.m. on Friday, April 12.
Lake Braddock defeated West Potomac 8-2 on Tuesday to improve to 8-2 overall and 4-0 in the district. The Bruins have won five in a row and will host Woodson at 6:30 p.m. on Friday, April 12.