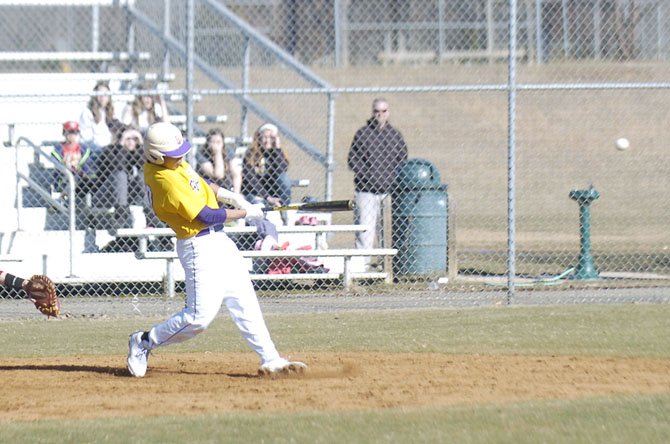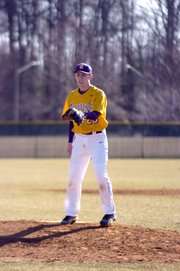 Burke — Members of the defending state champion Lake Braddock baseball team gathered in left field following Saturday's home scrimmage against Oakton. The Bruins would split into two groups and start running sprints.
Head coach Jody Rutherford didn't instruct his players to run for conditioning purposes. Think of the exercise as more of a wake-up call.
Lake Braddock is dealing with several injuries to key players. Elbow injuries to senior pitcher Thomas Rogers and senior infielder Mitch Spille; shoulder injuries to Spille and senior catcher Garett Driscoll; and a broken leg suffered by senior infielder Alex Lewis are just some of the Bruins' ailments. Several athletes are being eased back into their roles to avoid further injury—something Rutherford said led to a lack of focus during Saturday's scrimmage.
"It's tough for them because they're not used to being [out of] the game," Rutherford said. "That's kind of the reason we're doing this running—because they're not in the game. They're always used to being in the game, so they don't know really how to handle it and they didn't handle it well today. I think they all feel like they're heading in the right direction, like they're all positive they'll come back. It's just tough [when] you live and die baseball and then you don't have it."
LAKE BRADDOCK enters the 2013 season traveling a bumpy road as the Bruins look to defend last season's state championship—the first in program history. Along with losing 2012 Northern Region Pitcher of the Year Michael Church to graduation, Rogers, a Division I-caliber left-hander, underwent Tommy John surgery on his pitching elbow in August. If Rogers is able to return to the Bruins this season, he is unlikely to pitch, Rutherford said.
A back injury to sophomore pitcher Matt Supko, a neck injury suffered by Nick Balenger, which has the senior in a wheelchair, and other circumstances leave Lake Braddock entering the season with a pitching staff which did not throw a single varsity inning for the Bruins last season.
"I expect to win another state championship. I cannot say that the guys that really need to have that same mindset for us necessarily do."

—Lake Braddock baseball coach Jody Rutherford
Senior Nick McIntyre, who transferred from Bishop O'Connell, sophomore Kevin Haswell and Driscoll are among those who will see time on the mound this season. Driscoll, a standout catcher for the Bruins, will pitch while recovering from a torn labrum in his left (non-throwing) shoulder.
"I think it's just accepting it," senior outfielder Alex Gransback said. "Just knowing it's a new year … [and saying] all right, we have a few guys injured, but it's time to step up and rise above it."
Gransback was a member of the VirginiaPreps.com AAA all-state team and a Washington Post first-team All-Met selection last season. The Bruins will likely need his bat even more this season.
"He's playing really well," Rutherford said, "and he's back and fully healthy."
Lewis and junior shortstop Jack Owens are also key returning members of last season's state championship team, which also won the Patriot District title.
DESPITE FACING ADVERSITY early in the season, Rutherford said his expectations remain high for the Bruins—though the coach is unsure of how serious his players are about working toward another state crown.
"To be perfectly honest, my expectations haven't changed," Rutherford said. "I expect to win another state championship. I cannot say that the guys that really need to have that same mindset for us necessarily do. Whether it's because they're so focused on the injuries and recovering, or a lot of it has to do with complacency. We've had talks about it and it's not acceptable to me. If they're coming in with anything less than winning-another-state-championship attitude, they probably won't be playing for me."
Lake Braddock figures to have a target on its back this season. The Bruins are ranked No. 1 in the first Northern Region baseball coaches poll, and ranked No. 12 nationally in the latest MaxPreps.com top 25 rankings. Lake Braddock opens its season at 4:30 p.m. today against St. John's. The game was moved from Tuesday due to inclement weather. The Bruins will host Westfield at 6 p.m. on Thursday, March 14.
"I think it's kind of fun," Driscoll said of getting each opponent's best shot. "They're going to come out fired up trying to beat us, giving everything they've got. It will be more interesting for us, but I'm pretty sure everyone's up for a good game [and] for a fight. It will just be, overall, more fun."
Time will tell if Saturday's sprints were enough of a wake-up call for the Bruins.