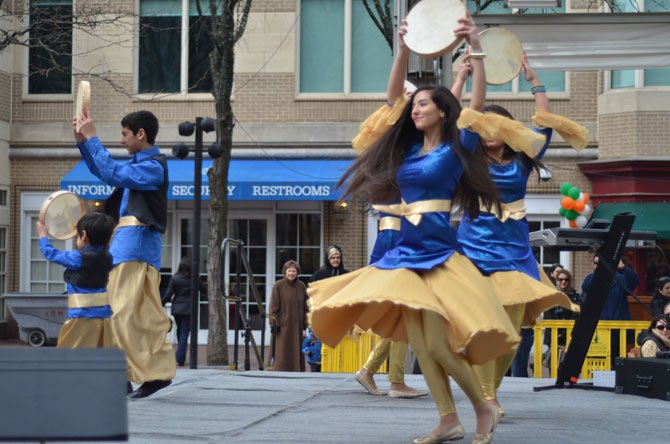 "This event is basically the Iranian New Year's festival," said Ashkbous Talebi, who was assisting with a display representing the Ghashghaic tribe, from southern Iran. Both Talebi and his wife have attended the celebration of Nowruz at Reston Town Center since it was first hosted in March of 2012.
The event was a day-long celebration, with the Pavilion serving as the presentation hub throughout the event. Layla Rad served as an emcee for the morning and afternoon. "Norwruz is very important to us, and to me," said Rad. "This is one of the biggest local gatherings of Iranian people." After graduating from Shahid Beheshti University in 2006, Layla started work as an interior designer. Rad has also taught art classes in Oakton.
Nowruz is a festival of early spring, renewal and the future. The full annual Nowruz celebration has many rituals, all having to do with aspects of hope and renewal. The event at Reston was open to the public, and there were a variety of singers, musicians, dancers and storytellers entertaining an actively engaged crowd. Market Street was filled with booths offering customary foods, goods and crafts.
During one of the shows, Saeed Banaei played the drums while Reza Kalioush dressed as the character Hajji Piruz spoke about the upcoming New Year. "I am enjoying the event and I hope everyone enjoys it as well," said Banaei, a resident of Herndon. "I hope this event continues every year."
Helping several dance groups was Katayoun Hutson, artistic director and dance instructor of Mosaique Center for the Cultural Arts based in Sterling. "This event is such as a great opportunity," said Hutson. Hutson also works with the dance ensemble Troupe Eshveh and Cyrus Academy, a family school located in Sterling. "This is a celebration of spring for everyone," said Hutson.
Performing a classical Persian dance was Saghar Shoaei, a resident of Ashburn and junior at Broad Run High School. "I preformed in last year's celebration as well," said Shoaei. "I think everything was fun, people can come attend and learn about the Persian culture." Shohreh Asemi, Persian-American stage actress, journalist, host and founder of Nowruz Festival Organization, was also at the celebration. "I am very excited about the third Nowruz Festival," stated Asemi. "This huge on-street event takes the normal Persian celebrations to the next level."

For more information on the festival, visit nowruzfestival.org