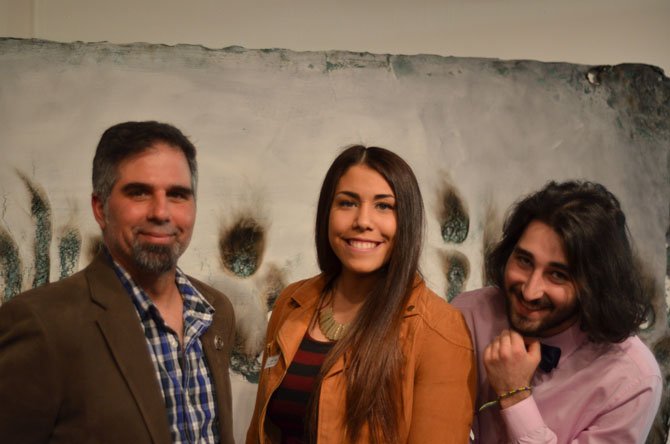 At the Greater Reston Arts Center (GRACE), a new exhibit has opened displaying the art of 62 students from three area high schools, Herndon, Oakton, and South Lakes. The exhibit, "Emerging Visions: Complexities" is the second exhibit GRACE is showing to celebrate Youth Art Month. The gallery is immersed with artwork including drawings, paintings, mixed media works and photography.
"I am hoping to go to Rochester Institute of Technology," said Ellie Hughes, a senior at Oakton High School who has a sculpture piece on display in the exhibit. Hughes also participated in the 2013 art exhibit held at GRACE for high school students. "I am mostly interested in photography," said Hughes. "That's her love," said her father, Jim Hughes who was impressed with the quality of the art exhibit.
It is really exciting," said Reed Timoner, a junior at Oakton High School. Timoner, Katie Anderson and Allie Cortese all have photography art on display in the exhibit. The evening of March 21 there was an art reception at GRACE and many of the students were there to talk about their work. "Photography is fun, it is a really cool hobby," said Timoner.
"This is an awesome professional experience," said Marco Rando, art and design teacher at South Lakes High School in Reston. "We are really excited our students were able to participate in such a real world experience," said Tammy Morin, an art teacher at Herndon High. Many of the artists focused on concepts that reflect complex issues such as beauty, forgiveness and love. Some worked collaboratively to address issues of identify and memory.
"The students really stepped up to the plate as far as creating work for a professional gallery," said Alexandra Mamatas, an art teacher at Herndon High. "There is a lot of talent this year, all the pieces are really interesting," said Anne Sykes, an art teacher at South Lakes. "I am always impressed with the art work in such a professional setting. It is always good to see the final results."
"This show will always be part of GRACE because it is part of our soul," said Robert Goudie, chairman of the GRACE board of directors. GRACE has long had active student outreach programs, and the annual Emerging Visions show has been one of GRACE's most popular exhibitions. It furthers the art center's mission of supporting young artists and enriching community life by promoting involvement and excellence in contemporary visual arts.
"This show is at the heart of what we do at GRACE," said Executive Director and Curator Holly Koons McCullough. She thanked the sponsor of the show Sunrise Orthodontics. The exhibit was an excellent opportunity for GRACE staff to interact with teachers, students and parents. Goudie also took the opportunity to praise GRACE Associate Curator Erica Harrison. "This show is a product of her persistence and dedication," said Goudie.
"This night is really about the artists and the teachers," said Harrison. The exhibit "Emerging Visions: Complexities" will continue to be on display at GRACE until April 5. To learn more about GRACE exhibits, visit www.restonarts.org.